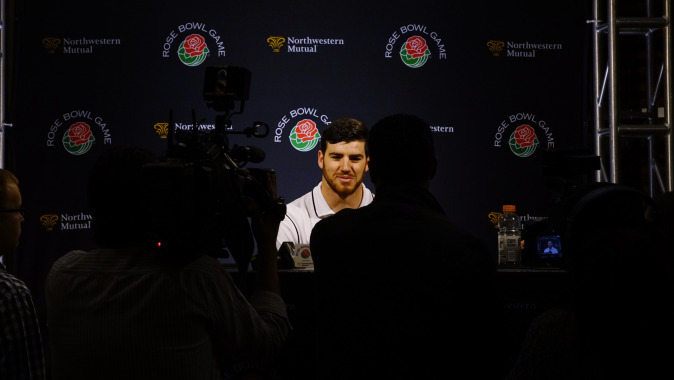 Dec. 29, 2015
Editor's Note: The following first appeared in the University of Iowa's Hawk Talk Daily, an e-newsletter that offers a daily look at the Iowa Hawkeyes, delivered free each morning to thousands of fans of the Hawkeyes worldwide. To receive daily news from the Iowa Hawkeyes, sign up HERE.
By JAMES ALLAN
hawkeyesports.com
LOS ANGELES — The fifth-ranked University of Iowa defense is focusing on the finer details to give itself a chance to slow down No. 6 Stanford's potent offensive attack.
The Cardinal has an offensive unit that averages 37.2 points and 436 yards. After being held to a pair of field goals in a 16-6 season-opening loss at Northwestern, Stanford has scored more than 40 points six times, averaged nearly 40 points, and won 11 games in 12 chances.
"Looking at their film, they're a great team," said sophomore linebacker Josey Jewell, Iowa's leading tackler with 119, including 7.5 for loss. "We have to do the small detail kind of things to give ourselves a chance to win."
The small details consist of making sure tackles, filling gaps, and holding the edge, especially with Heisman Trophy runner-up Christian McCaffrey lining up in the Stanford backfield.
| | |
| --- | --- |
| | "They do what they do, and we do what we do. It's going to be an interesting battle. They're a good team, well-coached, and we're looking forward to the opportunity." |
The sophomore running back had a Football Bowl Subdivision record 3,496 all-purpose yards in 2015. He rushed for 1,847 yards and eight touchdowns, averaging 142.1 yards and 5.8 yards per carry.
"You have to make sure you know where he's at," said UI defensive coordinator Phil Parker. "He's at quarterback, wide receiver, in the backfield. They do a lot of different things with him.
"It's a challenge for us, and it all goes back to being fundamentally sound at what we do, playing your keys, and knowing what you're supposed to do within the defense. It's going to be hard and a good competition for us."
Iowa knows containing McCaffrey is key because if he gets into the open field in space, it's likely a checkmate.
"We have to try to keep him boxed in," said Thorpe Award winner Desmond King. "He's an explosive back, and one cut that can open a lot of space for him. He's elusive and knows how to make his way around and how to get in the open field.
"I am going to have to set the edge and keep him boxed in and not let him get outside."
For as challenging a task as McCaffrey presents, Parker knows Stanford will line up and "do what they do." That means the Hawkeyes can follow suit to try to slow down the Cardinal and get Iowa's offense on the field.
In a 41-22 Pac-12 Championship game victory Southern California, Stanford piled up 417 yards of total offense and possessed the ball for more than 35 minutes. More than half of the Cardinal's offensive production came on the ground, rushing 51 times for 262 yards. It attempted just 13 passes, completing 10 for 155 yards.
"This offense has a game plan going in and they don't switch much from it," said senior linebacker Coole Fisher. "They know what they're good at, and they stick to it."
"They have a great understanding of what they are," said Parker. "They know what they want to do; they want to run the ball, and they do a good job of taking control of what they want to do.
"They do what they do, and we do what we do. It's going to be an interesting battle. They're a good team, well-coached, and we're looking forward to the opportunity."
The 102nd Rose Bowl Game will kick off at 4:10 p.m. (CT) on Jan. 1 at Rose Bowl Stadium in Pasedena, California. The game will be televised on ESPN.