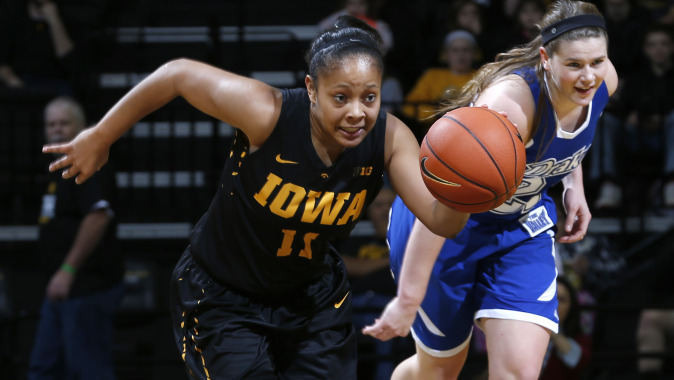 Jan. 5, 2016
Game Notes – at Michigan

THE SETTING
The 23-ranked University of Iowa women's basketball team continues Big Ten Conference play on the road at Michigan on Thursday, Jan. 7. Tipoff is set for 6 p.m. (CT).
GAME COVERAGE
? Thursday's game will be shown live online on BTN Plus available at btn2go.com.
? Live audio of the contest can be heard on select Hawkeye Radio Network affiliate stations and on Hawkeye All-Access available at hawkeyesports.com. Brent Balbinot and Kathryn Reynolds will call the action.
? Balbinot is in his 12th year as Iowa's play-by-play voice, while Reynolds is in her first providing analysis.
? Reynolds, a member of the infamous Core Four and team captain for the Hawkeyes in 2014-15, is pursuing a law degree at the University of Iowa.
? Links to video, audio, and live stats are available on the women's basketball schedule page at hawkeyesports.com.
HOT SHOOTING HAWKS TOP RUTGERS
? Iowa shot a season-high 54.5 percent to earn its second consecutive conference win over Rutgers on Monday night.
? The victory stretches Iowa's home win streak to 25 games, which began with the team's 18-0 effort last season. The streak ties the second-longest home win streak in program history, the longest being 46 games.
? Four Hawkeyes scored in double figures, including Alexa Kastanek (20), Ally Disterhoft (15), Chase Coley (10) and Whitney Jennings (10).
? Kastanek sunk five three-pointers, one from tying her career-high, to lead the Hawkeyes offensively.
? Megan Gustafson came off the bench for three blocks, six points, and a team-high six rebounds in her 20 minutes. She has blocked three or more shots in five of 14 games of her freshman season.
? Iowa outrebounded the Scarlet Knights, 34-31, in the contest.
B1G START FOR THE HAWKEYES
? Iowa is off to a 2-0 start in Big Ten Conference play for the second consecutive season.
? In its two conference games played, the Hawkeyes own a league-leading .495 field goal percentage, knocking down 50 of its 101 field goal attempts.
? Three Hawkeyes rank in the top 11 in conference field goal percentage. Chase Coley is fourth shooting .647, Ally Disterhoft is ninth shooting .560, and Alexa Kastanek is 11th shooting .526.
? The Hawkeyes are also leading the conference in blocked shots per game in conference play with Maryland. Both team have 11 blocks in two games for a 5.5 per game average.
? Megan Gustafson is second in the league in blocks in conference games alone, averaging 3.0 stuffs per game. She leads the Hawkeyes on the season with 23 blocks in 14 games.
? Alexa Kastanek is off to a great start in conference play. In two league games played, she is third in three-point field goals made per game (3.5), sixth in steals per game (2.5), 11th in field goal percentage (.526) and three-point field goal percentage (.467), and 15th in points per game (16.5).
? Tania Davis has made every free throw attempt of the conference season, hitting eight of eight for a league leading 1.000 free throw percentage.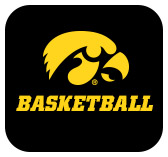 WHAT'S IN A WIN?
? With a win, the Hawkeyes can start the Big Ten season 3-0 for the first time in the Lisa Bluder coaching era.
? Iowa last opened a conference season with three wins in 1997-98 under Angie Lee. The Hawkeyes topped Minnesota, 91-55, Ohio State, 66-57, Penn State, 78-69, and Northwestern, 65-58, for a 4-0 start that season before dropping a game to Purdue in overtime, 75-66.
? A win would give Iowa four-straight victories against Michigan.
SERIES HISTORY
? Iowa leads Michigan, 46-15, in the all-time series.
? The Hawkeyes have won three consecutive games against the Wolverines, dating back to the first matchup of the 2012-13 conference season.
? Iowa has won the last three games of the series played in Ann Arbor, Michigan. The Hawkeyes have not lost to Michigan in the Crisler Center since 2009-10 (63-46 loss).
SCOUTING THE WOLVERINES
? Michigan brings an 8-5 overall record and a 0-2 mark into the Thursday matchup.
? The Wolverines won the first seven games of the season, but have since lost five of six games.
? Michigan fell to Purdue at home, 65-63, and Indiana on the road, 77-69, in its first two conference games.
? As a team, Michigan averages 80.1 points per game. Katelynn Flaherty (21.0) and Hallie Thome (11.7) average double figures in scoring.
? Michigan is outscoring (+18.9) and outrebounding (+8.4) its opponents so far this season.
? The Wolverines, comprised of four freshmen, four sophomores, two juniors, and here seniors, are led by fourth-year head coach Kim Barnes Arico.
HOME SWEET HOME
? Iowa has won 25 consecutive games on Mediacom Court in Carver-Hawkeye Arena, tying the second-longest win streak in program history.
? The streak began when the Hawkeyes posted a perfect 18-0 mark at home in 2014-15 and has continued into the 2015-16 season.
? Iowa's last 25-game win streak began when the Hawkeyes went 17-0 at home in 1992-93 and stretched eight home games into the 1993-94 season.
? Iowa's longest home win streak lasted 46 games, including the final 13 home games of the 1986-87 season, all 14 home games in the 1987-88 season, all 14 home games in the 1988-89 season, and the first five home games of the 1989-90 season.
? Eight home contests, all against Big Ten opponents, remain on the 2015-16 schedule.
? Iowa was one of 13 teams nationally to finish undefeated on its home court with an 18-0 mark last season, a program record for wins at home in a single season.
CHALLENGING B1G BEGINNING
? Iowa will plays its first six conference games within a 17 day stretch.
? Three of Iowa's first six conference games are against teams who made the 2015 NCAA Tournament (at Nebraska, vs. Rutgers, vs. Maryland).
? Michigan, a team Iowa will face on the road during the six-game stretch, accepted an invitation to compete in the WNIT last season.
? Four of the games in this stretch are on the road, as the Hawkeyes play at Nebraska, at Michigan, at Wisconsin, and at Michigan State.
A QUALITY NONCONFERENCE START
? Iowa compiled a 10-2 record in nonconference action, facing challenging opponents at home and on the road to prepare for Big Ten play.
? The Hawkeyes won seven of 12 nonconference games by 10 or more points.
? In the first 12 games, Iowa outscored, outrebounded, outassisted, and outblocked its opponents.
? The Hawkeyes own a .440 field goal percentage, .771 free throw percentage, and.309 three-point field goal percentage heading in to conference action.
? Iowa had four or more players score in double figures in seven of the 12 nonconference games played. A season-high six scored in double figures for the Hawkeyes against Drake on Dec. 22, including Ally Disterhoft (20), Megan Gustafson (16), Whitney Jennings (15), Alexa Kastanek (15), Chase Coley (11), and Tania Davis (10).
MOVING UP THE CHARTS
? Junior Ally Disterhoft is 24th on Iowa's all-time scoring list with 1,216 career points and 24th all-time with 506 career rebounds.
? She has played in every game of her Hawkeye career with 65 consecutive starts.
? Disterhoft has scored in double figures in every game this season, and in 59 of her 65 career starts.
? The co-captain leads Iowa in points per game (17.2) and assists per game (3.2).
UP NEXT
The Hawkeyes host No. 8 Maryland in Carver-Hawkeye Arena on Sunday, Jan. 10 at 2 p.m. The game, which will be Iowa's third competition in a seven day period, will air live on ESPN2.