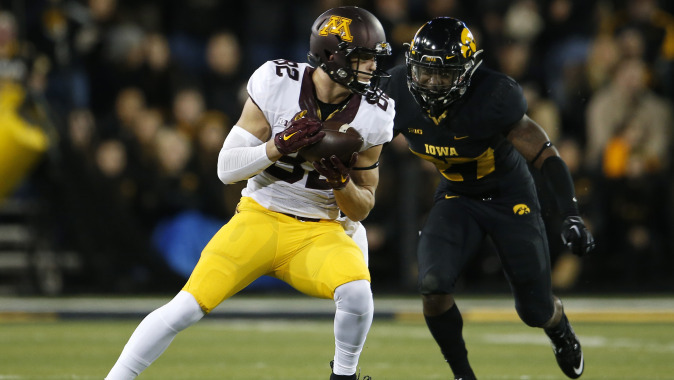 Jan. 8, 2016
TAMPA, Fla. — University of Iowa defensive back Jordan Lomax has accepted an invitation to play in the 91st East-West Shrine Game. The Game will be held Jan. 23, at Tropicana Field in Petersburg, Florida. The game will kick off at 4 p.m. EST and be televised on the NFL Network and broadcast worldwide on radio via Yahoo Sports Radio, SiriusXM, and Tunein.
Lomax joins an elite list of football greats, such as John Elway, Tom Brady, Brett Favre, and 72 NFL Hall of Famers, who have played in the East-West Shrine Game in addition to more than 265 East-West Shrine Game alumni currently on NFL rosters.
Lomax (5-foot-10, 205 pounds) was third on the Hawkeyes this season with 96 tackles. The native of Upper Marlboro, Maryland, finished his Hawkeye career with exactly 200 tackles. He was a third team All-Big Ten honoree and a second team Academic All-American in 2015. Lomax, who was chosen to Iowa's Leadership Group the last three seasons, played in 47 games as a Hawkeye, starting 27.
"The most important aspect of East-West Shrine Game has always been supporting Shriners Hospitals for Children," said East-West Shrine Game Executive Director Harold Richardson. "But during game week, it also affords our players a terrific opportunity to showcase their talents and get their first glimpse of life in the NFL. Just Like on Sunday."
While the teams are divided by East and West, the players come together for the beneficiary of the event, Shriners Hospitals for Children, an international pediatric specialty health care system.
"We hope our supporters all over the country will come out and enjoy this exciting game," said Douglas E. Maxwell, president and CEO of Shriners Hospitals for Children. "Our health care system depends on the generosity of our supporters, and this game is one of our signature events benefitting Shriners Hospitals for Children."
East-West Shrine Game tickets are on sale through all Ticketmaster outlets. Fans can purchase tickets for the game online at shrinegame.com, or ticketmaster.com. Game tickets are $15 general admission tickets (price does not include service fees).
About Shriners Hospitals for Children: Shriners Hospitals for Children is changing lives every day through innovative pediatric specialty care, world-class research and outstanding medical education. The 22 hospitals in the United States, Canada and Mexico provide advanced care for children with orthopaedic conditions, burns, spinal cord injuries, and cleft lip and palate. Shriners Hospitals for Children is a 501(c)(3) nonprofit organization and relies on the generosity of donors. All donations are tax-deductible to the fullest extent permitted by law. To learn more about Shriners Hospitals for Children, please visit shrinershospitalsforchildren.org.