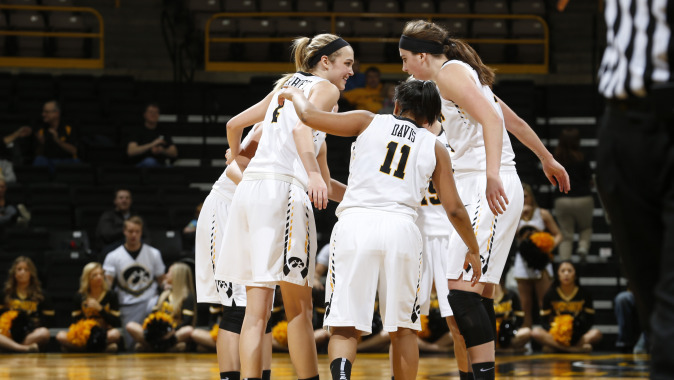 Jan. 8, 2016
Game Notes – vs Maryland

THE SETTING
No. 23-ranked University of Iowa women's basketball takes on No. 8 Maryland on Sunday, Jan. 10 at 2 p.m. (CT) inside Carver-Hawkeye Arena. It is the second game against a ranked team this season for the Hawkeyes (#23 George Washington on Nov. 27).
PROMOTIONS
? Dollar Hot Dog Day.
? Free trading cards for the first 1,000 fans in the door.
? Free tickets at local HyVee stores, (Iowa City 1st Ave., Iowa City Dodge St., Iowa City Waterfront, Iowa City 1st & Rochester, Coralville strip), while supplies lasts.
GAME COVERAGE
? ESPN2 will air the Sunday afternoon contest live at 2 p.m. (CT). Pam Ward (play-by-play) and Katie Smith (color) will call the game.
? Live audio of the game can be heard on select Hawkeye Radio Network affiliate stations and on Hawkeye All-Access available at hawkeyesports.com. Brent Balbinot and Stacey Schlapkohl will call the action.
? Balbinot is in his 12th year as Iowa's play-by-play voice.
? Schlapkohl, who played in 104 games with 49 starts from 2004-08, helped Iowa to three NCAA Tournaments. She scored in double figures in 22 games.
? Links to video, audio, and Gametracker (live stats) are available on the women's basketball schedule page at hawkeyesports.com.
SERIES HISTORY
? The all-time series between Iowa and Maryland is tied, 1-1.
? The Hawkeyes won the first meeting, 53-50, at Maryland in 1992-93.
? Maryland won the most recent game on its home court, 93-88, in 2014-15.
? Sunday's game is the first competition of the series to be played in Iowa City, Iowa.
SCOUTING THE TERPS
? No. 8-ranked Maryland enters Sunday's game with a 13-2 record overall and a 2-1 mark in Big Ten Conference play.
? The Terrapins opened the season with an 11-game win streak, before falling to UConn, 83-73 on Dec. 23. Ohio State handed them their second loss of the season on Jan. 2, 80-71.
? As a team, Maryland averages 87.2 points per game. Three players average double figures in scoring, including Shatori Walker-Kimbrough (17.7), Brionna Jones (14.3), and Brene Moseley (14.0).
? Maryland, the defending Big Ten regular season and tournament champions, were picked to finish first in the league by coaches and media. Jones and Walker-Kimbrough were preseason All-Big Ten picks by both the coaches and media.
? The Terrapins outscore their opponents by an average of 32.7 points per game and outrebound opponents by 19.5 rebounds per game.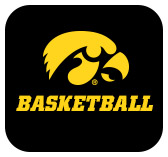 HOME SWEET HOME
? Iowa has won 25 consecutive games on Mediacom Court in Carver-Hawkeye Arena, tying the second-longest win streak in program history.
? The streak began when the Hawkeyes posted a perfect 18-0 mark at home in 2014-15 and has continued into the 2015-16 season.
? Iowa's last 25-game win streak began when the Hawkeyes went 17-0 at home in 1992-93 and stretched eight home games into the 1993-94 season.
? Iowa's longest home win streak lasted 46 games, including the final 13 home games of the 1986-87 season, all 14 home games in the 1987-88 season, all 14 home games in the 1988-89 season, and the first five home games of the 1989-90 season.
? Eight home contests, all against Big Ten opponents, remain on the 2015-16 schedule.
? Iowa was one of 13 teams nationally to finish undefeated on its home court with an 18-0 mark last season, a program record for wins at home in a single season.
B1G START SUMMARY
? Iowa opened Big Ten play with a pair of victories at Nebraska, 74-68, and against Rutgers, 69-65, before falling on the road to Michigan, 82-75.
? The Hawkeyes own a .481 field goal percentage, a .373 three-point field goal percentage, and a .755 free throw percentage in conference action.
? The Hawkeyes are averaging 72.7 points per game (+1.0 scoring margin) and 38.0 rebounds per game (+7.3 rebounding margin) through three league contests.
? Four Hawkeyes own a field goal percentage of .481 or higher, including Chase Coley (.667), Megan Gustafson (.579), Ally Disterhoft (.559), and Alexa Kastanek (.481).
? Three, Disterhoft (15.3), Coley (14.7), and Kastanek (14.0), average double figures in scoring.
? Disterhoft leads the team in rebounds per game (6.3), Whitney Jennings paces the squad in assists per game (4.7), and Gustafson leads the way in blocks per game (2.7).
LAST MEETING RUNDOWN
? The Hawkeyes fell to the Terrapins, 93-88, on the road on Feb. 1, 2015. It was the lone meeting between the teams last season.
? Iowa had four in double figures, including Ally Disterhoft (22), Melissa Dixon (18), Samantha Logic (17), and Bethany Doolittle (16), while Maryland had three score in double figures in Lexie Brown (26), Brionna Jones (19), and Laurin Mincy (15).
? Rebounds and second-chance points were the difference-maker for the Terrapins, who out rebounded Iowa 41 to 29 and scored 28 second-chance points to Iowa's six.
CHALLENGING B1G BEGINNING
? Iowa plays its first six conference games within a 17 day stretch.
? Three of Iowa's first six conference games are against teams who made the 2015 NCAA Tournament (at Nebraska, vs. Rutgers, vs. Maryland).
? Michigan, a team Iowa will face on the road during the six-game stretch, accepted an invitation to compete in the WNIT last season.
? Four of the games in this stretch are on the road, as the Hawkeyes play at Nebraska, at Michigan, at Wisconsin, and at Michigan State.
MOVING UP THE CHARTS
? Junior Ally Disterhoft is tied for 23rd on Iowa's all-time scoring list with 1,230 career points and is also 23rd all-time with 511 career rebounds.
? She has played in every game of her Hawkeye career with 66 consecutive starts.
? Disterhoft has scored in double figures in every game this season, and in 60 of her 66 career starts.
? The co-captain leads Iowa in points per game (16.9).
? Freshman Megan Gustafson has compiled 25 blocks through 15 games played this season, which is fourth on the all-time freshman list at Iowa. The record at Iowa in a freshman season is 79 blocks, set by Morgan Johnson in 2009-10.
UP NEXT
The Hawkeyes hit the road for a pair of Big Ten Conference games next week. Iowa faces Wisconsin at 7 p.m. (CT) on Wednesday, Jan. 13 and Michigan State at 3:30 p.m. (CT) on Saturday, Jan. 16.