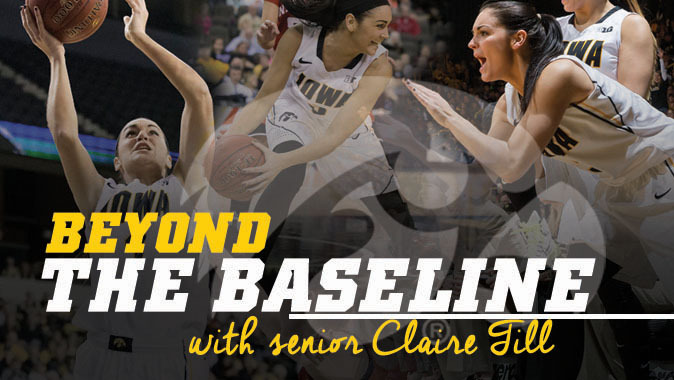 Jan. 10, 2016
Editor's Note: The following first appeared in the University of Iowa's Hawk Talk Daily, an e-newsletter that offers a daily look at the Iowa Hawkeyes, delivered free each morning to thousands of fans of the Hawkeyes worldwide. To receive daily news from the Iowa Hawkeyes, sign up HERE.
By JIL PRICE
IOWA CITY, Iowa — An average of 4,217 loyal Hawkeye fans have attended each University of Iowa women's basketball game this season. Their energy makes Carver-Hawkeye Arena electric, something the Hawkeyes appreciate every time they take the court.
To, in part, thank them for their unwavering support and to also provide fans with an inside look at the people who make up the program, senior forward Claire Till began a blog "Beyond the Baseline."
"The idea just came to me one day," Till said. "I love this team, it is so full of character and we have fun together every single day. I thought it would be interesting to share with the fans and people around the country who have been following us. It's a way for people to know who we are on and off the court.
"This blog is going to be fun for them. It's behind the scenes and we do so many fun things that the fans fund and support. Being able to showcase that in a different way will provide everyone with great memories of all our experiences."
The blog is designed to showcase the unique personalities of the 14 student-athletes that make the UI women's basketball program what it is. It will allow the fans to see what the Hawkeyes are like off the court.
"While we are basketball players, it is not the only thing that defines us," Till said. "People get caught up in how many points someone scores, how many rebounds they get, and the wins and losses of the season.
"But in reality, we're all kids. We're here for one goal, we want to win. We give all our hearts every single day to do that. If people get to know us, they feel that on another level and can put themselves in our shoes. We want to show off the personalities on this team and the great people coach (Lisa) Bluder recruits. We're genuine, fun people, who love being here."
The Hawkeyes are back in action on their home court today at 2 p.m. (CT). The team faces No. 8 Maryland, the defending Big Ten regular season and tournament champions.
Iowa brings a 25-game home winning streak into the conference matchup, tied for the second-longest in program history.
"It's always exciting to have a top 10 team come to your home court," Bluder said. "This is going to be a battle for us, but we're looking forward to being back in Carver-Hawkeye Arena in front of our home crowd."
Today's game will air live on ESPN2 with Pam Ward and Katie Smith on the call. It is Dollar Dog Day and the first 1,000 fans will receive free Iowa women's basketball trading cards.