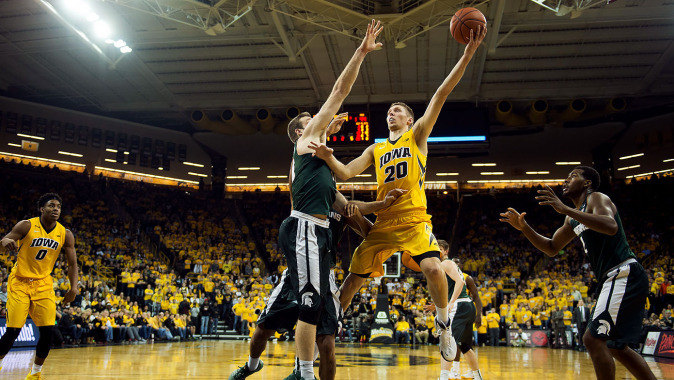 Jan. 13, 2016
EAST LANSING, Michigan — University of Iowa senior Jarrod Uthoff is one of 25 players named to the John R. Wooden Award presented by Wendy's, Midseason Top 25 Wednesday evening. Chosen by a poll of national college basketball experts, the list is comprised of 25 student-athletes who are the frontrunners for the sport's most prestigious individual honor, based on their performances during the first half of the 2015-2016 season.
The 6-foot-9, 221-pound forward is the Big Ten leading scorer (18.6 ppg) and ranks first in blocked shots (3.3 bpg). Uthoff, who has helped lead Iowa to a 12-3 record, is the fifth player from a major conference since 1996-97 to average better than 18 points and three blocks per contest. Uthoff is shooting 50 percent from the field (102-of-203), including 45.5 percent (30-of-66) from 3-point range. He's also an 80 percent (45-of-56) free throw shooter.
Uthoff is the only player in the country with 275+ points, 90+ rebounds, and 50+ blocks this season. The native of Cedar Rapids, Iowa, has scored in double figures in every game as a senior, including tallying 20 or more six times.
The players on the list are considered strong candidates for the 2016 John R. Wooden Award presented by Wendy's. The leading candidates will be further pared to 20 top players in early February. Fifteen top players who have proven to their universities that they are also making progress toward graduation and maintaining at least a cumulative 2.0 GPA will be submitted to the voters on the ballot prior to the NCAA Tournament. The ten-man Wooden Award All-American Team will be announced the week of the "Elite Eight" round of the NCAA Tournament.
On the 2016 Wooden Award Midseason Top 25 list, five players not on the Preseason Top 50 were named to the Midseason Top 25: Ryan Anderson of Arizona, Kay Felder of Oakland, Damion Lee of Louisville, Wayne Selden, Jr. of Kansas, and Uthoff.
The Wooden Award Trophy is bestowed upon the nation's best player at an institution of higher education who has proven to his or her university that he or she is making progress toward graduation while maintaining a minimum cumulative 2.0 GPA. The unique Wooden Award trophy is presented to a man and woman each year. Previous winners include such notables as Larry Bird (`79), Michael Jordan (`84), Tim Duncan (`97), Candace Parker (`07 and `08), Kevin Durant (`09), Maya Moore (`09 and `11), Trey Burke (`13) and Doug McDermott (`14). Wisconsin's Frank Kaminsky won the 2015 Wooden Award presented by Wendy's and Breanna Stewart of Connecticut won the 2015 Wooden Award.
Fans can follow the candidates en route to the Wooden Award presentation and get the latest news throughout the season by liking the Wooden Award Facebook page or following @WoodenAward on Twitter and Instagram. For more information on the John R. Wooden Award, please contact Ernest Baskerville at 213-630-5231 or via email at woodenaward@laac.net.
Uthoff and the 16th-ranked Hawkeyes return to action tomorrow night at No. 4 Michigan State. Tipoff is set for 6:05 p.m. (CT) at the Breslin Center.