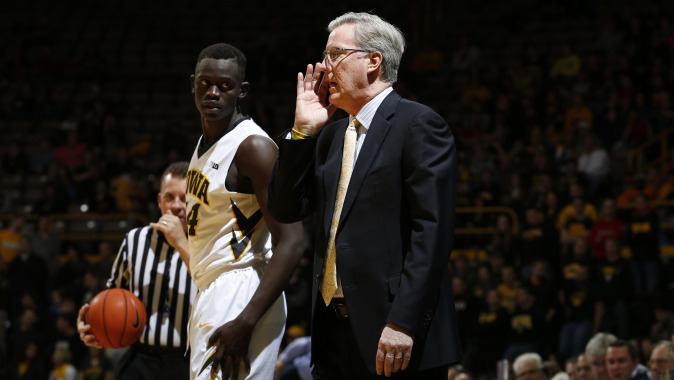 Jan. 15, 2016
By JAMES ALLAN
hawkeyesports.com
IOWA CITY, Iowa — Fresh off its first victory at Michigan State in 23 years, the University of Iowa men's basketball team hosts Michigan on Sunday — a team that knocked off No. 3 Maryland on Tuesday in Ann Arbor, Michigan.
The 16th-ranked Hawkeyes host the Wolverines at 3:30 p.m. (CT) on Mediacom Court inside Carver-Hawkeye Arena. The game will be televised live on BTN.
"The key will be to come out Sunday with the same focus and determination," UI head coach Fran McCaffery said during a Friday teleconference. "We might not make nine (first-half) 3-pointers, but we have to do the other things we do to help our team win. We have the maturity and intelligence to make that happen."
Michigan (13-4, 3-1) won for the seventh time in eight games, handing the Terrapins a 70-67 loss Jan. 12 in Ann Arbor. It was Maryland's — the Big Ten preseason favorite — first league loss of the season.
"You're talking about a team that made 12 3s," said McCaffery of Michigan's win over Maryland. "(When you're playing Michigan) you have to recognize they are going to have multiple 3-pointer shooters on the floor at any given time.
"When you look at that team and you look at how many guys shoot the ball in the basket from deep, you have to get out and pressure those guys."
The Wolverines are averaging 78.2 points and shooting 50 percent from the field and 42.6 percent from 3-point range. Five different Michigan players have made at least 18 3-point field goals this season with forward Duncan Robinson hitting 59, while boasting a 55.7 3-point field goal percentage.
Guard Caris LeVert leads the team with a 17.6 average, but he has missed the last three games with a lower leg injury. Robinson averages 12.1 points, guard Derrick Walton, Jr., adds 10.2 points, and guard Zak Irvin chips in 9.2 per game.
"If you take a first round (NBA) draft pick out of the lineup, they're different, but what's helped them is he was out last year," said McCaffery. "If you look at the players that benefitted from additional playing time last year, all those guys are ready now and playing like veterans."
Iowa is a veteran-laden team, so McCaffery doesn't expect the Hawkeyes mindset to alter. Iowa is 4-0 in the Big Ten for the first time since 1999 and has won six straight and 10 of its last 11 games.
"When you've been through what they've been through, there is nothing they haven't seen, they get this league," said McCaffery. "Everybody you play, if you bring less than your best, they'll beat you. Every team we play the rest of the year (can beat you), and our guys understand that.
"We have to make sure we bring our best and give ourselves a chance every time we take the floor. It's such a long season and journey. If you get too hyped up about one victory or too down after one loss, it can affect the next month, forget about the next week."
That's why McCaffery is stressing the same level of intensity, game-in and game-out.
"Nothing changes from game-to-game," he said. "It's no harder or easier, it's the same level of intensity. It's no special formula."
Sunday's game is approaching a sellout status. Standing room only tickets are available by contacting the UI Athletics Ticket Office at 800-IA-HAWKS or visiting www.hawkeyesports.com.