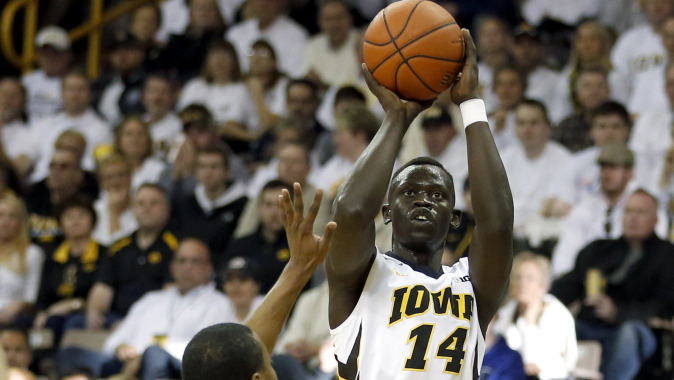 Jan. 18, 2016
ROSEMONT, Illinois — University of Iowa junior Peter Jok was named Big Ten Player of the Week. The announcement was made Monday by the Big Ten Conference office.
Jok, who collects his first Big Ten weekly honor of his career, has played an integral part in helping Iowa extend its winning streak to seven games and start 5-0 in the Big Ten for the first time since 1996-97. Jok helped Iowa to a pair of wins last week, at No. 4 Michigan State and Michigan at home. Jok averaged 19.5 points, shooting at a 58 percent clip from the field (14-of-24), including a blistering 63.6 percent (7-of-11) from 3-point range. He also averaged 3.5 rebounds, 1.5 assists, and 1.5 steals per game.
The native of West Des Moines, Iowa, helped snap an 18-game losing skid at Michigan State last Thursday evening — Iowa's last win at the Breslin Center came in 1993. Jok scored 19 of his game-high 23 points in the first half against the Spartans. Iowa's 17-point win over Michigan State is its largest victory over the Spartans in East Lansing since a 75-57 win March 12, 1983.
The 6-foot-6, 205-pound guard netted 14 of his 16 points in the second half and had four rebounds in an 82-71 triumph against Michigan Sunday in Iowa City.
Iowa has garnered four weekly honors from the Big Ten Conference this season, including capturing back-to-back Player of the Week laurels; senior Mike Gesell earned the honor last week. It marks the first time Hawkeye players earned consecutive Player of the Week accolades since Adam Haluska (Jan. 30) and Jeff Horner (Feb. 6) earned co-Player of the Week honors in 2006. It is the first time in school history that two Hawkeyes earned the weekly honor in consecutive weeks without sharing the award with another Big Ten student-athlete. It also is the first time since the 2004-05 campaign that a Hawkeye earned Player of the Week distinction at least three times (Greg Brunner and Horner – twice).
Other Hawkeyes earning weekly Big Ten awards this season include Jarrod Uthoff being named co-Player of the Week on Dec. 14 and Nicholas Baer being recognized as Freshman of the Week on Dec. 21.
Jok and the nationally-ranked Hawkeyes (14-3, 5-0) return to action Thursday when they travel to Piscataway, New Jersey, to face Rutgers at 6 p.m. (CT). The game will be televised nationally on ESPNU (WATCHESPN).