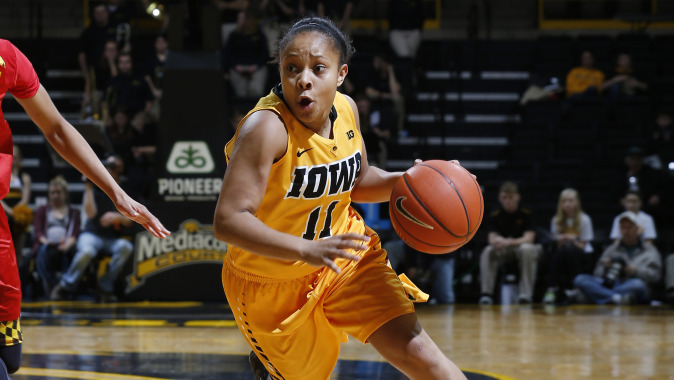 Jan. 19, 2016
Editor's Note: The following first appeared in the University of Iowa's Hawk Talk Daily, an e-newsletter that offers a daily look at the Iowa Hawkeyes, delivered free each morning to thousands of fans of the Hawkeyes worldwide. To receive daily news from the Iowa Hawkeyes, sign up HERE.
By JIL PRICE
IOWA CITY, Iowa — University of Iowa freshman guard Tania Davis made her return to the Breslin Center in East Lansing, Michigan, last Saturday — a venue where she guided Goodrich High School to back-to-back state championships in 2012 and 2013.
Donning Black and Gold with the Hawkeyes, the 2014-15 Michigan Miss Basketball honoree put on a show at Michigan State. Davis led Iowa with a career-high 16 points, shooting .417 from field goal range (5-12) and .800 from long range (4-5). She also matched career bests with six rebounds and five assists in her 26 minutes off the bench.
Having a breakout performance in front of her fan club of 60 plus, which included family members, friends, church members, and high school coaches and teammates was special for Davis.
"It was amazing playing in a place where I've played a lot of big games," Davis said. "Getting back there and playing against old teammates in front of my former coaches, family, and friends was a special experience.
"It pushed up my intensity and my confidence. I have tremendous confidence now that I can find my open teammates and make open threes."
The 5-4 guard, who is averaging 6.6 points, 2.8 rebounds, and 2.4 assists in her 19.9 minutes per game, sees her latest effort as a springboard for continued success in the remainder of her first collegiate season.
"Now that I know I'm capable of scoring 16 points at the collegiate level, I'm going to start striving to do that more often and push it even more," Davis said. "I'm always looking to attack, be aggressive off the bench, and encourage my teammates."
Sixteenth-year UI head coach Lisa Bluder agrees, challenging Davis to strive for the same level of performance day-in and day-out.
"(Her performance) was tremendous," Bluder said. "That was nice for her, she had a good crowd there, but we need Tania to play like that every time, not just when she goes back to Michigan. She is capable and hopefully this will give her great confidence with this week's games. You are starting to see what Tania is capable of doing."
Davis and the Hawkeyes (13-5, 3-3) are back in action inside Carver-Hawkeye Arena on Wednesday, Jan. 20 against Penn State (6-11, 1-5).
"(Penn State) still means a lot to me personally," Davis said. "It means a lot to me to come out and win on our home court; I want to come out with the same aggression and attitude I did against Michigan State."
The 7 p.m. (CT) contest is Nicole Smith bobble head night. As a part of UI Student Night, students will get free food prior to the game and can register to win a $100 Visa gift card. It is also Four Pack Night, which means fans can purchase four tickets, four hot dogs, and four drinks for just $35 (must order prior to game day).
Hawkeye fans can watch the game live online on BTN Plus, available at btn2go.com.