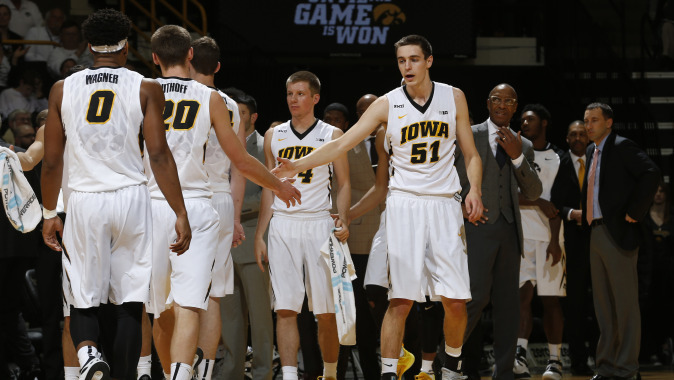 Jan. 22, 2016
By JAMES ALLAN
hawkeyesports.com
IOWA CITY, Iowa — With No. 22 Purdue coming to Mediacom Court, the ninth-ranked University of Iowa men's basketball team is in for a fight.
The Boilermakers and Hawkeyes square off at 12:06 p.m. (CT) Sunday inside Carver-Hawkeye Arena. The game will be televised live on BTN.
"They're going to guard and pressure you and pick you up, but it's not over the top," UI head coach Fran McCaffery said of Purdue's defense during a Friday media teleconference. "They play intelligently defensively, but they work and compete. The bottom line is if you want to beat Purdue, you have to compete."
The Boilermakers are 17-3 overall and 5-2 in the Big Ten with a home loss against Iowa and a road defeat at Illinois. Purdue is riding a three-game winning streak that includes a 107-57 victory at Rutgers on Jan. 18.
During the first meeting in West Lafayette, Indiana, on Jan. 2, Iowa trailed by 17 points at the half. Purdue defended and caught fire, making seven first-half 3-pointers.
The tides turned in the second half with Iowa making 18-of-28 field goals and six 3s. The Hawkeyes forced 10 Boilermaker turnovers and limited Purdue to eight field goals (one 3-pointer).
"(Purdue) has made a couple of small changes (since the first meeting), but strength of their team is they have depth and size, but they also have shooters," said McCaffery. "When they're making 3s, they're almost impossible to beat because of the mix of in-and-out."
Purdue's front court is as talented as any team in the Big Ten Conference, featuring seven-footers A.J. Hammons and Isaac Haas and 6-foot-9 forward Caleb Swanigan. All three posts average double figures and they combined for 34.8 points per game.
It's the emergence of sophomore guard Vince Edwards that has impressed McCaffery. Edwards is averaging 9.7 points, 5.3 rebounds, and 2.8 assists.
"He's a guy that has continued to get better," said McCaffery. "Everybody talks about their size and Rapheal Davis, but Edwards has stepped up and become an elite player in this league."
McCaffery says senior point guard Mike Gesell should be good to go Sunday after playing through a hamstring injury in Thursday's 90-76 road victory at Rutgers. Gesell was held scoreless in 33 minutes.
"(His injury) didn't affect him to where he couldn't contribute — he had nine assists and was terrific — but he wasn't himself," said McCaffery. "He'll be fine for Sunday."
Senior Anthony Clemmons helped to pick up the scoring slack in Piscataway, finishing with a career-high 20 points. He also had five assists to zero turnovers in 34 minutes.
"He's playing with great confidence, shooting well, and attacking the rim," said McCaffery. "His decision-making on when to shoot, drive or move it on is just about perfect right now. That's what you want to see."
A victory Sunday would move Iowa to 7-0 in the Big Ten for the first time since 1970 — a season where the Hawkeyes went 14-0 en route to the regular season title.