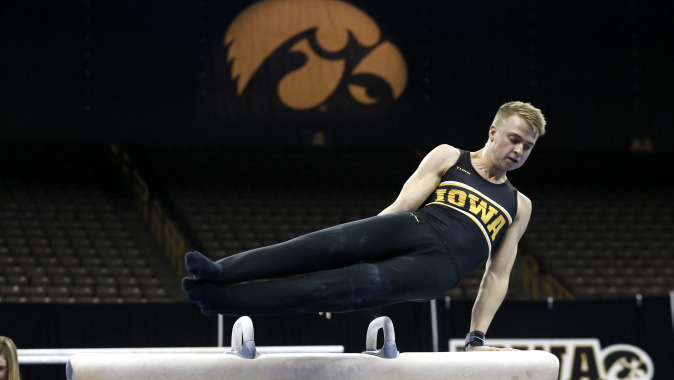 Jan. 24, 2016
Complete Results

CHICAGO, Illinois — The No. 10-ranked University of Iowa men's gymnastics team capped off its second meet in as many days with a convincing, 431.800 – 388.100, victory over no. 19 UIC in Chicago on Sunday afternoon.
The Hawkeyes rebounded after a tough loss yesterday at the hands of no. 3 Illinois to set multiple season and career bests. Iowa led the entire meet.
"We tried new guys out today," head coach JD Reive said. "We hit over 430 twice this weekend, which is a big deal to show what we're actually capable of doing this early in the season. We are also figuring out our lineup for a five up five count. The competition is fun and it's a healthy competition."
Iowa began on pommel horse with a bang by setting a new season high team score with a 71.650. Senior Doug Sullivan shattered the previous school record of 15.250 on the event set by himself in 2014 with a 15.400, claiming the event title. Junior Emmanuel Monroy placed second overall with a score of 14.600 and sophomore Elijah Parsells followed up in third place with a 14.450 effort.
For the second rotation Iowa headed to floor exercise. Senior Matt Loochtan set a season high with a 15.350 on floor for the event title. Junior Mark Springett continued his streak of impressive performances with a 14.450 and a second place finish on the event and sophomore Dylan Ellsworth finished fifth with a 14.050.
On vault, Iowa set a new season high team score with a 74.400 and swept the event, claiming the top five spots. Ellsworth set a new career best with a 15.350 and won the event title, Loochtan's 15.150 was good enough for second on the event and freshman Todd Beyer II set a career high with a 14.900 effort.
At the halfway point, Iowa held a commanding lead 217.100 – 194.000.
The fourth rotation had Iowa on rings. Loochtan grabbed his second event title of the evening with a 15.200. Senior Jack Boyle finished second overall, earning a 14.600 and freshman Rogelio Vazquez set a career high, finishing third overall with a 14.900.
High bar was next for the Hawkeyes. Boyle claimed Iowa's fifth event title of the afternoon, tying his career high with a 15.300. Loochtan placed second with a score of 14.350 and redshirt senior Cyrus Dobre-Mofid finished third overall with a 14.200.
Iowa completed a sweep of the event titles on parallel bars with Dobre-Mofid's season best 14.600. Junior Andrew Botto finished runner up on the event with a 14.000 and junior Cory Paterson followed behind with 13.900.
Iowa set a new season high overall team score with a 431.800, besting their previous score set on Saturday night against Illinois.
Paterson and Botto were the lone gymnasts to compete all-around for either team posting scores of 80.550 and 79.650, respectively.
Iowa returns to action next Saturday when the Hawkeyes travel to Norman, Oklahoma for a meet against top-ranked Oklahoma. The competition will begin at 5 p.m. (CT).