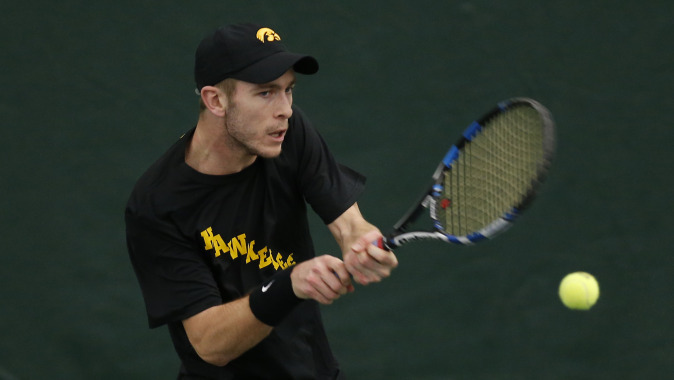 Jan. 25, 2016
Editor's Note: The following first appeared in the University of Iowa's Hawk Talk Daily, an e-newsletter that offers a daily look at the Iowa Hawkeyes, delivered free each morning to thousands of fans of the Hawkeyes worldwide. To receive daily news from the Iowa Hawkeyes, sign up HERE.
By SYDNEY OCKER
hawkeyesports.com
Iowa City, Iowa — For most students, winter break is a time to rest and relax with friends and family. For members of Iowa's men's tennis team, it's time to prepare.
"Most players take it easy over winter break, but I went out and played 13 matches and only lost one."
Hawkeye sophomore Josh Silverstein definitely did not take it easy over winter break. On Dec. 21, Silverstein took the court at the APTC Prize Money Championships and on Dec. 23, he defeated Mark Oljaca in the final match of the tournament, 6-0, 6-0.
Three days later Silverstein entered the USTA National Men's Indoor Championships at the U.S. Open courts in Flushing Meadows, New York. Again, Silverstein advanced to the finals where he took on Shawn Hadabi of Stanford. He lost the match, 2-6, 7-6(4), 6-1. Though he placed second in the tournament, Silverstein still received a silver ball and accomplished a life-long goal.
"It was a great honor to receive the silver ball at the end of the tournament. Every tennis player from the U.S. dreams of getting one of these balls and they all know the amount of hard work and dedication it takes to receive one."
Silverstein plans to use those accomplishments as motivators and is confident that his hard will give him an advantage going into the spring season.
The sophomore wasn't the only Hawkeye using his time away from school to focus on tennis. Fellow sophomore Jake Jacoby and freshmen Tony Leto competed as doubles partners at the Walter Herrick Men's Open in Illinois.
"Playing over the break was essential to staying in shape," said Jacoby, "It's one thing to practice and hit balls but the fact that I got to play actual matches is key to that start of the year."
Playing doubles over the break also gave Jacoby a chance to test his leadership skills on the court.
"Jake has been a good role model for me. He gets it done day-in-and-day-out on the court and outside of tennis," said Leto, "Over the break he really motivated me to train hard."
Kareem Allaf, a freshmen on the tennis team, traveled home to Dubai over the break, but like his fellow Hawkeyes, he chose not to be idle in his time off. While at home, Allaf played with some of tennis' top athletes. He gained experience and motivation from the likes of Milos Raonic and Jo-Wilfried Tsonga, ranked No. 14 and No. 10 in the world, respectively.
"It was a different level and they were hitting at a different pace — much faster and harder than we hit by a long shot. I worked a lot on my physical game," said Allaf, "I'm ready for my team to do well this season and to compete in future tournaments."
After their month of winning tournaments and learning from some the game's top players, the guys are ready to get back to their teammates and start the spring season.
"We are all very excited for our season to begin and every single one of us is putting in the proper work necessary for us to win and accomplish our team's goals," admitted Silverstein.
The Hawkeyes start the season at home today with a dual meet against No. 70 Utah State Aggies. The match begin at 11 a.m. and admission is free to the public.