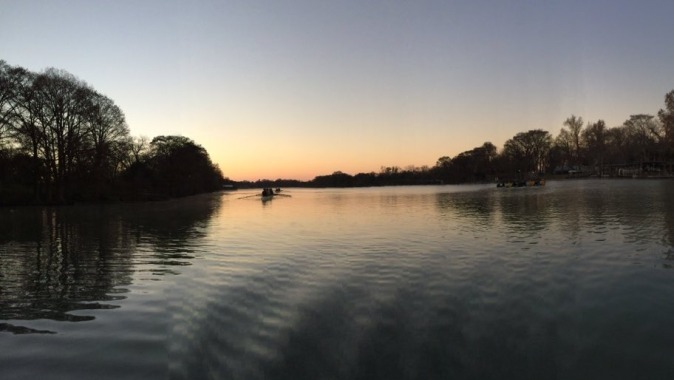 Jan. 26, 2016
Editor's Note: The following first appeared in the University of Iowa's Hawk Talk Daily, an e-newsletter that offers a daily look at the Iowa Hawkeyes, delivered free each morning to thousands of fans of the Hawkeyes worldwide. To receive daily news from the Iowa Hawkeyes, sign up HERE.
By JIL PRICE
IOWA CITY, Iowa — There are many training options available inside the state-of-the-art P. Sue Beckwith Boathouse along the Iowa River in Iowa City, but none can replace the importance of on-water repetitions. With cold temperatures and frozen bodies of water present throughout each Midwest winter, the University of Iowa rowing program escapes to the south for two annual training trips.
"We're so fortunate to have resources invested in rowing from ergometers to leading-edge, moving water tanks that let us simulate," said third-year head coach Andrew Carter. "We have been afforded basically everything you can imagine for off-water training, but nothing can take the place of the dynamic situation that occurs in the boat.
"To not have these trips would put us at a serious disadvantage versus a lot of our competition in the southern half of the country, and we would go into the spring season with one hand tied behind our back."
The Hawkeyes recently returned from their first trip of the year, heading to a new venue deep in Texas Hill Country where they trained from Jan. 9-17. Members of the 1V8+, 2V8+, 1V4+, 2V4+, and 1N8+ crews worked together through three training sessions per day, taking time in between to grill out, enjoy time with venue hosts and locals, take in the scenery, and bond as a unit.
Coming out of the trip, which Carter says is the equivalent of a month's worth of training, the coaching staff is excited about the distribution of depth on its roster.
"The distribution of the depth has changed," Carter said. "Some of the younger women are moving forward at such a rapid rate that some of the women who were top performers previously are not necessarily in our top crew.
"That means we have more women meeting top-level performance standards, which is important in the scoring structure in our sport and has been Achilles heel to the Iowa program in the past. That's the biggest reason we haven't been able to score the points that we need to get to the NCAA Championship and compete at that level."
The Hawkeyes, who finished sixth in a field of eight at last year's Big Ten Championship in Indianapolis look to build on an impressive fall resume, which included wins at the Head of the Des Moines Regatta, competitive racing against an 11th-place NCAA Championship program in Indiana, and strong showings at the historic Head of the Charles Regatta and Jayhawk Jamboree against stiff competition.
"What they understand as being possible and where they stand within the conference and nationally is starting to change," Carter said. "The expectation that we are supposed to be in the bottom tier of the Big Ten is no longer part of their thinking.
"There aren't many records in this program that haven't been broken since I arrived 2 1/2 years ago. It's not because I'm a genius; this is them. That has had a direct influence on their expectations, their goal setting for the spring, and what they believe is possible."
UI rowing heads back to Texas Hill Country in February and will gain race experience in a pair of exhibitions with Old Dominion on Feb. 18 and Texas on Feb. 21, before opening the season at the Big Ten/ACC Double Dual on April 2 against Louisville and Notre Dame.