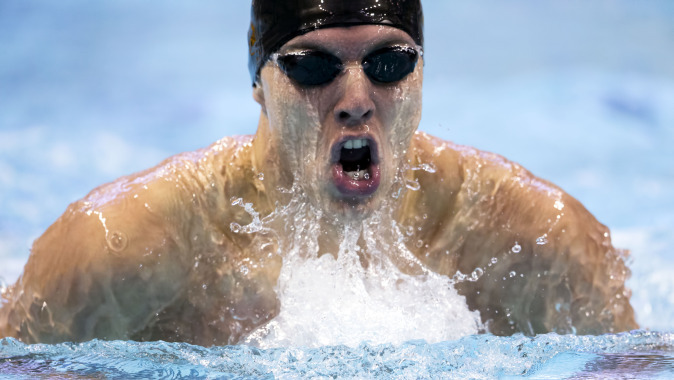 Jan 28, 2016
Notes

THIS WEEK The University of Iowa men's swimming and diving team travels to South Bend, Indiana, on Friday and Saturday for the Shamrock Invitational. Action starts at 4 p.m. (CT) Friday.
LIVE RESULTS
Up-to-date results will be available on http://www.und.com/livestats/m-swim/012916/index.htm. Fans can also follow the meet via Twitter by following @IowaSwimDive.
RACKING IN THE NCAA "B" QUALIFYING TIMES
Iowa has posted 13 NCAA "B" cuts during the first half of the 2015-16 season. Below is a rundown of the Hawkeyes' performances:
50 Free: Jack Smith (20.14), Jackson Allen (20.14)
100 Free: Jack Smith (44.26)
200 Free: Jack Smith (1:37.80)
100 Back: Kenneth Mende (47.83)
200 Back: Kenneth Mende (1:45.27), Andrew Parker (1:46.15)
100 Breast: Roman Trussov (53.32), Mike Nelson (54.78)
200 Breast: Roman Trussov (1:56.18)
100 Fly: Jerzy Trussov (46.97), Jackson Allen (47.78)
200 Fly: Jerzy Twarowski (1:45.41)
BACKING INTO FIRST
Redshirt freshman Kenneth Mende showed his best against Big Ten foe Purdue. The Germany native swam to two wins and a runner-up finish. Mende had a first-place showing in the 100 back (49.03) and 200 back (1:49.11). He also led off the runner-up 200-medley relay, where he had a split of 22.92– the fastest of the meet. Mende's season-best time of 48.84 in the 100 back is the eighth-fastest in program history.
BRENNER B1G FRESHMAN OF THE WEEK
Freshman Will Brenner was named the Big Ten Freshman of the Week on Dec. 9 after breaking the school record on the 1-meter springboard at the Hawkeye Invitational. This record had stood since 2004 (Timo Klami); Brenner broke it by nearly seven points.
SMITH THE SPRINTER
Freshman Jack Smith has adjusted nicely in his first season as a collegian. The England native is leading the Hawkeyes in the 50 free (20.14), 100 free (44.26), and 200 free (1:37.80). He has NCAA "B" qualifying times in all three events. Smith is also has a team-best time, swimming in all five relays.
DIVING TO NCAA ZONE STANDARDS
Four Hawkeye divers have posted NCAA Zone diving standards this season. Will Brenner (365.00), Brandis Heffner (341.55), Addison Boschult (334.43), and Andrew Hull (332.25) have posted qualifying scores off the 1-meter, while Heffner (366.90), Hull (346.25), and Boschult (347.40) have qualifying scores on the 3-meter. Boschult (354.30) and Hull (339.25) have zone standards off the platform.
FIRST-PLACE FLYER
Sophomore Jerzy Twarowski flew fast in Iowa's Nov. 6 meet against Purdue. The Krakow, Poland, native swam to two first place finishes, touching first in the 100 fly in 48.50 seconds and 200 fly in 1:49.28. Twarowski has an NCAA "B" qualifying time in the 100 fly, posting a time of 48.04 in the dual meet against Minnesota.
COLIN GOES THE DISTANCE
Freshman Ben Colin has helped lead the Hawkeyes in distance freestyle events this season. The Dubuque, Iowa, native swam a season-best time in the 1,000 free against Purdue on Nov. 6, touching at a time of 9:36.75, and touched in 4:35.06 in the 500, also a season best.
BOUNDING BREASTROKER
Senior Roman Trussov has led the way for the Hawkeyes in breaststroke competition this season. The Kazakhstan native swam to three top-three finishes against Purdue on Nov. 6. He had a season-best time of 55.49 in the 100 breast.
RETURNING NCAA QUALIFIERS
The Hawkeyes return Roman Trussov Mike Nelson, Jerzy Twarowski, and Addison Boschult from the NCAA Championships this season. Trussov placed 18th in the 200-medley relay (1:26.19), 19th in the 400-medley relay (3:10.03), 24th in the 100 breast (53.17), and 28th in the 200 breast (1:55.04). Nelson served as an alternate in the 100 and 200 breaststroke, Twarowski finished 18th in the 200-medley relay (1:26.19) and 19th in the 400-medley relay (3:10.03), and Boschult placed 10th at the NCAA Championships with a score of 386.50 and was second overall off the platform at NCAA Zone D Diving Championships (387.70).
HAWKEYES ADD 8 TO 2016-17 ROSTER
Iowa signed seven high school preps to National Letters of Intent to join the program in 2016-17. The class consists of Alex Baldisseri (Merano, Italy), John Colin (Dubuque, Iowa), Weston Credit (La Grange, Ill.), Steve Fiolic (Urbandale, Iowa), Joe Myhre (St. Charles, Ill.), Will Scott (Iowa City, Iowa), Alex Streightiff (Lake Bluff, Ill.), and Forrest White (Danville, Calif.).
TRUSSOV: 2-TIME NCAA QUALIFIER
Senior Roman Trussov returns for his senior season as a two-time NCAA qualifier (2013, 2015). The Kazakhstan native holds the school records in the 100 breast (52.85), 200 breast (1:54.57) and as part of the 200 (1:25.53) and 400 (3:08.56) medley relays. Trussov placed 24th overall in the 100 breast and 28th in the 200 breast at the 2015 NCAA Championships.
TOP FLYER RETURNS
Sophomore Jerzy Twarowski is back for his second season as a Hawkeye and his second season competing in the yards distances. Twarowski became the first Iowa butterfly swimmer to break the 47-second mark during his first collegiate season, posting a school-record time of 46.70. He also broke a 22-year old school record (Rafal Szukala) in the 200 fly, finishing with a time of 1:44.00.
CAMPUS RECREATION AND WELLNESS CENTER
Ground was broken for the Campus Recreation and Wellness Center in October 2007. The facility opened in August 2010 and is home for the Hawkeyes. It is located at the corner of Burlington and Madison streets and cost approximately $69 million. The facility includes a 50-meter competition pool, a separate diving well, a leisure pool with lap lanes and 24,000 square feet of fitness space.
IOWA SWIMMING AND DIVING TRADITION
Iowa was one of the first schools in the nation to compete on a collegiate level and competed at the first NCAA Championship. From 1937 to 1960, Iowa placed in the NCAA top 10 18 times, crowning nine NCAA and 22 Big Ten champions.
ON THE HORIZON
The Hawkeyes will host Western Illinois in their final home dual of the season on Feb. 5 at the CRWC Natatorium. Action is set to begin at 6 p.m. (CT).