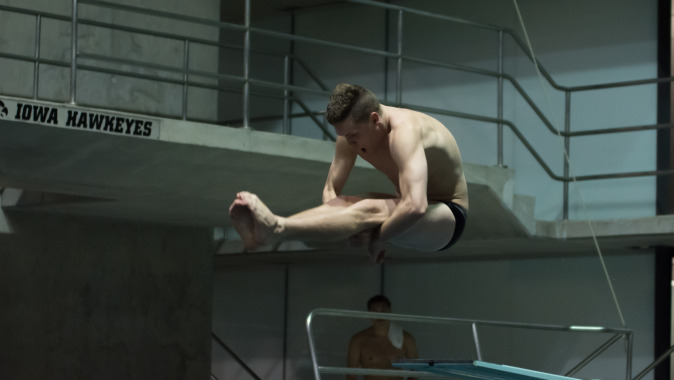 Jan 29, 2016
Complete Results

SOUTH BEND, Ind. The University of Iowa men's swimming and diving team posted a relay victory during the opening day of the Shamrock Invitational at Notre Dame's Rolfs Aquatic Center.
Iowa opened the night with a first-place finish in the 200-free relay with senior Jackson Allen, junior Jackson Halsmer, junior Brandon Farnum, and freshman Jack Smith sprinting to a time of 1:21.25.
Sophomore Chris Dawson brought the Hawkeyes a third place finish in the 500 free in 4:32.91.
The Hawkeyes closed out the night with a runner-up finish in the 400-medley relay. The quartet of freshman Kenneth Mende, senior Roman Trussov, sophomore Jerzy Twarowski, and Smith swam to a time of 3:14.23.
The Hawkeyes excelled in the diving well on the opening night, finishing with two top three finishes on the 3-meter springboard. Senior Addison Boschult finished second with a score of 320.65, followed by senior Andrew Hull in third with a score of 308.05.
Day two of the Shamrock Invitational begins Saturday at 9 a.m. (CT).