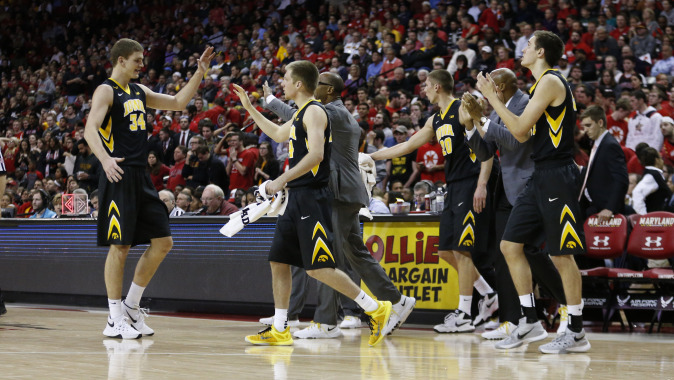 Jan. 29, 2016
By JAMES ALLAN
hawkeyesports.com
IOWA CITY, Iowa — There isn't panic in the No. 3/4 University of Iowa men's basketball team following its first Big Ten Conference regular season loss in nearly a calendar year.
UI head coach Fran McCaffery expects a bounce-back performance with Northwestern coming to Carver-Hawkeye Arena for a 2 p.m. (CT) Sunday matchup on Mediacom Court.
"I don't panic either way and neither do (the players)," McCaffery said during a Friday media teleconference. "We take a business-like approach. That's how we were Thursday night after the game and before the game.
"That's how we'll be before and after the Northwestern game. If you get too emotional, it makes for a long season."
The Hawkeyes were in a position to win at No. 7/8 Maryland despite not firing on all cylinders. Iowa tied a season-low with five 3-point field goals (connecting on 20.8 percent from long range), committed more turnovers than it had assists (11-to-9), and senior Jarrod Uthoff was limited to a season-low nine points.
Yet the game was in the balance with two minutes to play.
"If you looked at all the things collectively, you would have thought we would have lost by more," said McCaffery. "It shows we have toughness and other good players that can be effective."
It was "just one of those nights" for Uthoff.
"He wanted to impact the game and was playing hard," said McCaffery. "He made aggressive moves, they (the shots) just didn't go in. He hasn't really had an off night all year long."
Iowa welcomes a reeling Northwestern team to Iowa City. The Wildcats have lost four consecutive games and six of eight Big Ten contests since starting the season 13-1. The Wildcats are 15-7 overall and 3-6 in league action.
Third-year NU head coach Chris Collins has three players averaging double figures with sophomore guard Bryant McIntosh leading the way with 15 points, 6.8 assists, and 3.5 rebounds per game. Tre Demps (13.7 points) and Alex Olah (11.3) also average double figures.
"Northwestern is a team you have to defend," said McCaffery. "It all starts with McIntosh, and they run good stuff. They'll rotate guys and (Collins) has some pieces and can get you with bodies. He has more size and length than he has ever had."
McIntosh has four 20-point games and two 30-point games this season. He finished with 33 points, making 11-of-15 field goals and three 3-pointers, in a victory over Loyola (Maryland) on Dec. 27.
"(McIntosh) is a guy you have to pay attention to," said McCaffery. "He was special as a freshman and is a little more confident and effective this season. He's doing it with everybody knowing who he is now."
Sunday's game will be televised on BTN. Limited standing room only tickets are available by contacting the UI Athletics Ticket Office at 800-IA-HAWKS or on hawkeyesports.com.