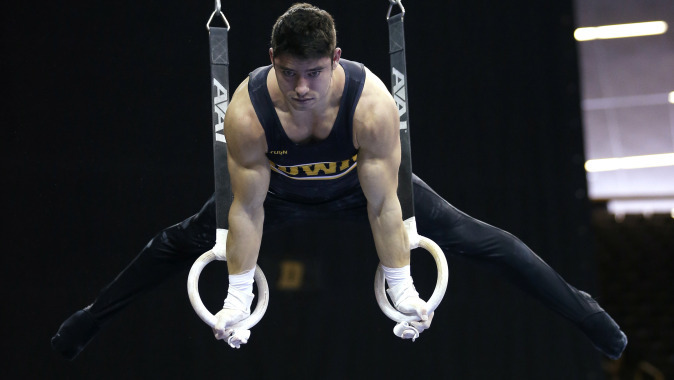 Jan. 30, 2016
Complete Results

NORMAN, Oklahoma — The No. 6-ranked University of Iowa men's gymnastics team traveled to Norman, Oklahoma, for the team's first tri-meet of the season against top-ranked Oklahoma and No.7 California on Saturday night. The Hawkeyes finished second with a team score of 426.950.
Oklahoma won the meet with a total score of 447.400 and California (425.850) placed third.
"We did some good stuff, some bad stuff and not much in between," head coach JD Reive said. "There were a lot of misses and there was a lot of energy too, being the number one team in the country so the nerves may have it. Our first three guys on rings fell, but they did a great job of bouncing back. The all-arounders did awesome so this was all a part of our process of beating the better teams."
Iowa began its third meet in a week on rings with a season low team score of 71.350. Senior Jack Boyle led the team with a 14.900 and placed fifth overall. Senior Matt Loochtan posted a 14.800 and junior Andrew Botto scored a 14.750, placing sixth and seventh overall, respectively.
Floor exercise was next for the Hawkeyes. Freshman Jake Brodarzon led off with a career best 14.150, while Boyle and Loochtan tied for the team lead with 14.750 and tying for sixth overall.
Pommel horse gave Iowa some trouble as the team scored a 69.000 overall. A week since his school record 15.400, senior Doug Sullivan led the team again on the event with a 15.000 and placed third overall. Sophomore Elijah Parsells scored a 14.150 and senior Del Vecchio Orozco posted a 13.750 effort.
At the halfway point, Oklahoma held a commanding lead with a 225.400 with Iowa in second (212.050) and California in third (211.100).
The fourth rotation led Iowa to high bar where the team put up a 72.400 team score for its highest event total of the evening. Boyle led the team for the second time with a 15.100 effort, just .50 shy of sharing the event title. Junior Cory Paterson posted a 14.600 for 10th overall and senior Cyrus Dobre-Mofid set a season high, scoring a 14.500 on the event.
Vault was next for the Hawkeyes who were holding onto a slim lead over California for second place. Loochtan's 14.800 led the team, placing sixth overall followed by Ellsworth, posting a 14.550, earing seventh place and junior David Spanier recorded a 14.400 for 11th place.
Heading into the final rotation, Oklahoma held a 14.450 point lead, Iowa remained in second with a 356.500 and California was in third with a 352.800 team score.
Iowa ended the meet on parallel bars. Looking to seal a second place finish, Iowa scored a 70.450 team score on the event. Loochtan scored a 14.500 to lead Iowa and place fifth overall and Botto's 14.250 placed him ninth overall.
Iowa secured its second place finish with a final score of 426.950. California placed third with a 425.850 and Oklahoma won the meet with a 447.400.
Loochtan and Boyle competed all-around for the Hawkeyes. Boyle earned an 86.200, placing third overall and Loochtan set a new career best on all-around with an 86.250 and a second place finish.
The Hawkeyes take the next week off before traveling to Minnesota on Feb. 13. Competition will begin at 5 p.m. (CT).