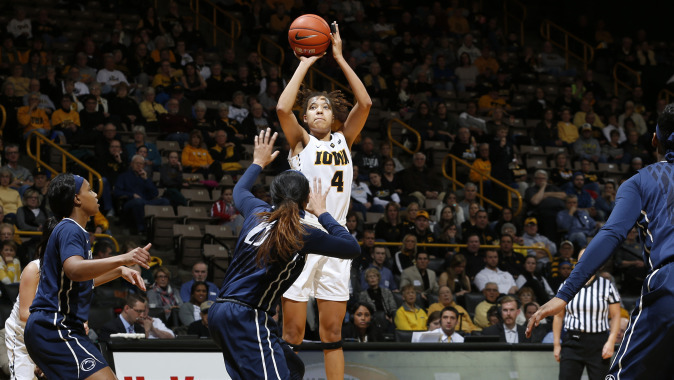 Feb. 1, 2016
IOWA CITY, Iowa — University of Iowa sophomore Chase Coley earned her first career Big Ten Player of the Week Honor Roll award this afternoon. It is the third time a Hawkeye has received the honor this season, as junior Ally Disterhoft earned honor roll recognition on Dec. 7 and Dec. 28.
Coley led the Hawkeyes to a pair of Big Ten wins over Michigan, 85-69, and at Northwestern, 79-64, last week. She posted a .759 field goal percentage and averaged 20.0 points and 8.5 rebounds per game in the two game stretch.
The Minneapolis, Minnesota, native netted 7-of-9 field goals and 7-of-8 free throws attempted to lead Iowa with 21 points in its win over the Wolverines on Jan. 28. She added 10 points to compile the third double-double of her career off the bench, and tallied three assists, two blocks, and one steal in the game.
Coley followed the performance with a team-leading 19 points and seven rebounds in the Iowa's road win over the Wildcats on Jan. 31. She sunk 8-of-10 field goals and 3-of-4 free throws attempted in the contest, and notched two assists and a block.
On the season, Coley averages 11.0 points and leads the team with 5.5 rebounds per game along with Disterhoft. Through 22 games played, she owns a .558 field goal percentage and a .769 free throw percentage.
The Hawkeyes continue conference play at Indiana on Feb. 4 at 6 p.m. (CT). The contest will air live on the Big Ten Network.