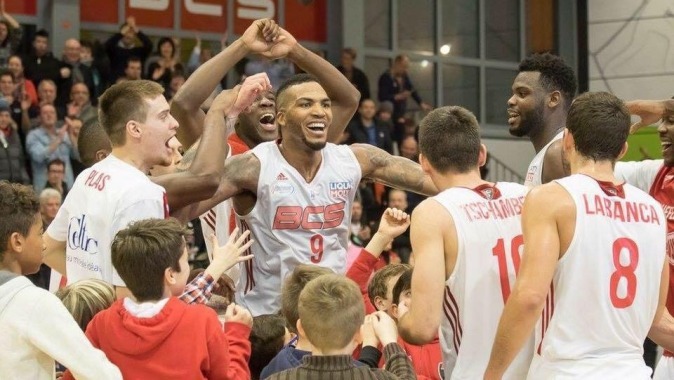 Jan. 31, 2016
Editor's Note: The following first appeared in the University of Iowa's Hawk Talk Daily, an e-newsletter that offers a daily look at the Iowa Hawkeyes, delivered free each morning to thousands of fans of the Hawkeyes worldwide. To receive daily news from the Iowa Hawkeyes, sign up HERE.
By SAM STYCH
hawkeyesports.com
IOWA CITY, Iowa — While the No. 3/4 University of Iowa men's basketball team is enjoying its best start to Big Ten Conference play in school history, several former Hawkeyes are enjoying their own success at the professional level overseas.
Melsahn Basabe | F
Port of Antwerp Giants (Belgium)
Before signing a deal with Belgium's Port of Antwerp Giants for the 2015-16 season, Melsahn Basabe completed a stellar season with Finland's Helsinki Seagulls. Basabe averaged 19.4 points and 12 rebounds to lead the Seagulls to the Finnish League playoffs. He was named All-Finnish Korisliiga League Center of the Year by Eurobasket.com, while also earning first-team all-league distinction.
Jarryd Cole | F
BC Souffelweyersheim (France)
Jarryd Cole is in his fifth season of professional basketball and is currently playing for the BC Souffelweyersheim in France. Cole has started all 14 games for Souffelweyersheim this season, averaging 13.5 points, 6.6 rebounds, and 0.5 blocks per game. Last week, he helped his team knock off the No. 1 ranked team.
Matt Gatens | G
CSP Limoges (France)
Matt Gatens finds himself on his fourth professional team in as many years after inking a one-year deal with France's CSP Limoges. Gatens most recently helped Limoges knock off Valencia, Europe's top team, twice in one week — Valencia's first two losses of the season (28-2).
Overall, Gatens is enjoying his experience overseas.
"The experience overall has been valuable and memorable," said Gatens. "To be able to travel the world and live in different cultures with my wife has been something we will always cherish. The basketball has been great as well.
"I have been fortunate to play at the highest level in Europe in the Euroleague in addition to playing in other top competitions in Spain, Ukraine, Turkey, and France. I have been able to play against some of the top teams and players in the world, which has been a great learning experience as well."
Even though Gatens is located on the other side of the globe roughly 4,300 miles away from Iowa City, don't think he isn't paying attention to this year's Hawkeyes.
"I have been able to watch some games live and when I can't, I usually record them," said Gatens. "It has been awesome to follow and cheer on the guys. I am proud and happy for the players, coaches, and staff, as I know the hard work they all put in. I am looking forward to the next couple months and watching them down the homestretch and during tournament time."
DEVYN MARBLE | G
Orlando Magic (United States)
After being selected by the Orlando Magic with the 56th overall pick in the 2014 NBA Draft, Marble has split time between the Magic and its NBA D-League affiliate, the Erie BayHawks. In his last game with the BayHawks before being called up to the Magic's active roster on Jan. 17, Marble scored 23 points (9-14 FG, 3-4 3-FG, 2-2 FT), four rebounds, and one assist over 24 minutes.
GABE OLASENI | C
Brose Baskets Bamberg (Germany)
Gabriel Olaseni plays for the reigning Bundesliga champions Brose Baskets Bamberb in Germany. Olaseni and the Brose Baskets are competing in Europe's top league this year — the EuroLeague.
Aaron White | F
Telekom Baskets Bonn (Germany)
Aaron White is playing for Germany's Telekom Baskets Bonn. Iowa's second all-time leading scorer leads Telekom in minutes (28.3), points (14.1), and rebounds (6.8), all while sinking a solid 56 percent of his shots.
Two other Hawkeyes — Darius Stokes and Josh Oglesby — have recently signed professional contracts overseas.