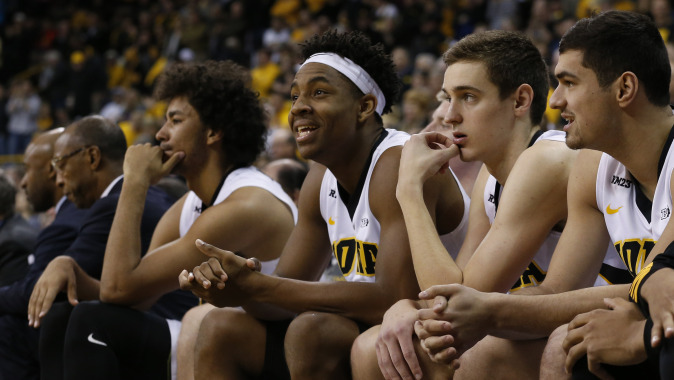 Feb. 2, 2016
Editor's Note: The following first appeared in the University of Iowa's Hawk Talk Daily, an e-newsletter that offers a daily look at the Iowa Hawkeyes, delivered free each morning to thousands of fans of the Hawkeyes worldwide. To receive daily news from the Iowa Hawkeyes, sign up HERE.
By MATT WEITZEL
IOWA CITY, Iowa — The University of Iowa men's basketball team has reached the halfway point of its Big Ten Conference schedule with a mark of 8-1, which ties Indiana for first place in the standings. The 8-1 mark is the program's best start in Big Ten play since going 10-1 to start conference play during the 1981-82 season.
Five of Iowa's first nine games have come against ranked opponents, including three of four road games.
The Hawkeye starting lineup is loaded with upperclassmen — 19 years of combined collegiate experience to be exact. Iowa would not be where it is without its reserves.
UI head coach Fran McCaffery feels good where the underclassmen are at the midway point of league play.
"They've been consistent," said McCaffery. "You can't survive a grueling Big Ten schedule with five or six guys. I'm thrilled with how those guys have performed because even on days where they haven't scored as much, they've been solid defensively. They have taken care of the ball and are not mistake guys."
Through 21 games, Iowa's bench is averaging 21.2 points, 15.3 rebounds, 3.3 assists, 2.1 steals, and two blocks.
Freshman Ahmad Wagner had one of his best overall collegiate outings Sunday in Iowa's double-digit win over Northwestern. The 6-foot-7, 225-pound forward scored six points, grabbed four rebounds, and rejected a personal-best three shots.
"I'm feeling more confident with the team," Wagner said. "We're working hard and getting better every day in practice."
McCaffery didn't know where the bench was back in September, but the group has grown leaps and bounds in the months since.
"We weren't ready," said McCaffery. "It would have been a hard fight with five or six guys. Dom (Uhl) was fine, but the other guys were not ready. We recruited them because we thought they were good, but you often times can't determine how quickly a guy's going to get ready.
"A lot of freshmen have time. They didn't have any time to kick it off their foot, miss a shot, or play through their mistakes because of the schedule we had. They didn't have that luxury, but to their credit, they've been terrific."
Recent home games against Michigan and Purdue saw second-half runs that created separation. The spurts were sparked by a lineup consisting mainly of the reserves.
"In the Michigan game, we had Uhl, Wagner, and Baer on the front line when we made our run. That speaks volumes about what I think of those guys. They've produced in a very difficult situation, so I wouldn't be afraid to do it again."
Wagner says he and the other freshmen are like sponges in practice, learning from the upperclassmen.
"Our upperclassmen are great teachers and leaders," said Wagner. "They're always telling us little tips that can help us on the court. I appreciate that."
Iowa hosts Penn State on Wednesday at 6 p.m. (CT) on Mediacom Court at Carver-Hawkeye Arena. Tickets are available for the game by contacting the UI Athletic Ticket Office.