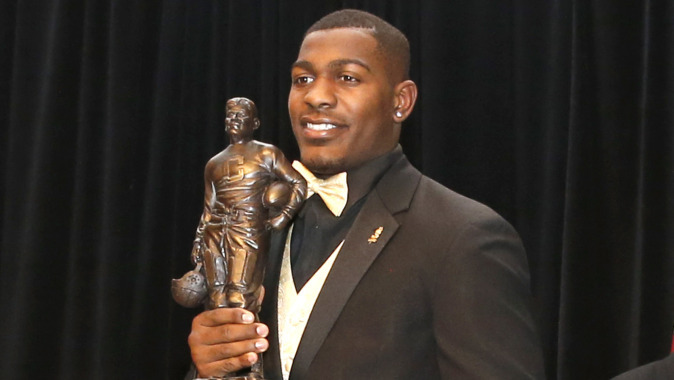 Feb. 2, 2016
Jim Thorpe Award Banquet Photo Gallery (Feb. 1)

| Jim Thorpe Award Banquet Photo Gallery (Feb. 2)

By DARREN MILLER
hawkeyesports.com
OKLAHOMA CITY — Kirk Ferentz talks of it often to the University of Iowa football team: postseason awards are team awards.
Hawkeye junior defensive back Desmond King received the Jim Thorpe Award on Tuesday at the National Cowboy & Western Heritage Museum. He won the bronze trophy, cowboy hat, cowboy boots, and (eventually) a Rolex watch because he compiled 72 tackles, 13 pass breakups, and eight interceptions during the 2015 season.
He also won the award because the nationally ranked Hawkeyes were 12-0 at the time of voting. To the victor goes the spoils…and hardware.
Winning as a team has always been a hallmark of Ferentz-coached football teams and 2015 was no different.
An interesting side note occurred while King was in Oklahoma three days enjoying the events that precede the Jim Thorpe Award banquet. King was being transported by limousine to a function when he began to smile while viewing an Instagram post by a true freshman teammate.
One of the big, strong Paulsen twins posted a photograph of King wearing his new hat and boots and added a comment that made King laugh. Paulsen, a collegiate rookie from tiny Moville, Iowa, made the day for King, a consensus All-American from Detroit. In some football programs, true freshmen are lucky to get a hello in the locker room from a veteran. That isn't how it works under Ferentz.
"It says we have great team chemistry all together and that shows what kind of program we have running over there," King said. "It's like a family."
King decided in early December that he was returning to Iowa for his senior season and to earn a degree in communications and African-American studies. Then he won the Jim Thorpe Award and became a consensus All-American. King began to wonder if maybe he was ready to enter the NFL Draft.
| | |
| --- | --- |
| | "It says we have great team chemistry all together and that shows what kind of program we have running over there. It's like a family." |
But spending another year with teammates tugged him toward a return to Iowa City.
"Sitting down and thinking about the season we had and the bond between teammates, it was hard knowing I had an extra year I could spend with them," King said. "That's hard to give up. And then the brotherhood bond that we have on the team. When you know you have another year with my brothers and we can make another magical season."
King told everyone who asked at the Jim Thorpe festivities that he expects a "great" season for the Hawkeyes in 2016. He cited eight returning defensive starters and six on offense. He bragged about young players on Iowa's roster gaining experience to fill key holes. He talked about a bitter taste left from being inches and seconds away from a Big Ten Championship.
One of King's closest friends on the team is junior quarterback C.J. Beathard. They chatted about being totally invested on having another historic run inside Kinnick Stadium as well as on the road.
"So why not take another shot at it knowing we fell short in the Big Ten Championship?" King asked. "Now we know what to do when that time comes again."
There was another consistent message King delivered from Sunday until Tuesday to interested ears on the Jim Thorpe Award committee. While seven defensive backs from the Big Ten have won the Jim Thorpe Award from 1997-2015, no one has ever been a repeat winner. King wants to be the first.
"It's an honor to represent this great award and be able to come back another year and contribute to our team's success," King said. "I want to come back to Oklahoma City, because I would like another pair of boots."
King knows that in order to get those boots, he will have to duplicate his All-America season and prove once again that he is the top defensive back in college football.
And while a lot of that is based on King's performance, he also knows that postseason awards are team awards.