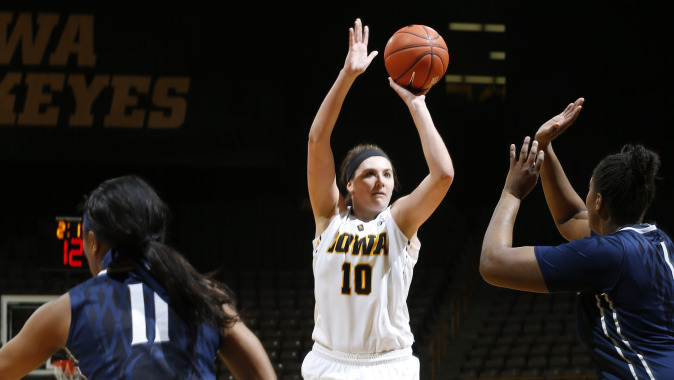 Feb. 4, 2016
Editor's Note: The following first appeared in the University of Iowa's Hawk Talk Daily, an e-newsletter that offers a daily look at the Iowa Hawkeyes, delivered free each morning to thousands of fans of the Hawkeyes worldwide. To receive daily news from the Iowa Hawkeyes, sign up HERE.
By JIL PRICE
IOWA CITY, Iowa — After earning a starting role and recording her first career double-doubles in consecutive Big Ten wins to close the month of January, University of Iowa freshman Megan Gustafson is coming in to her own and having a big impact in her first season with Hawkeye women's basketball.
"I continue to be amazed by Megan," head coach Lisa Bluder said. "Nothing phases her. She doesn't back down from anybody, is always working hard, and is incredibly coachable. She just keeps at it and is playing very well as a freshman in our league."
The 6-3 center, who has appeared in every game for the Hawkeyes this season, earned the first start of her career on Jan. 24 at Purdue and has ramped up her game since. In the three game stretch, Gustafson averages 10.7 points, 8.3 rebounds, and 2.3 blocks per contest and is shooting .414 from the floor.
"Having a starting role is great, but not a lot has changed intensity-wise for me," Gustafson said. "Coach Bluder wants me to keep my intensity up and I've been doing that. I have also been focusing on rebounding, which we've been good at this year, but I personally wanted to pick it up in the last few games."
That mindset paid dividends for Gustafson, who posted career highs in the category in consecutive conference victories at home against Michigan (12 rebounds) and at Northwestern (13 rebounds). With her efforts on the glass, the Port Wing, Wisconsin, was able to earn the first double-doubles of her career.
"I really just want to win," Gustafson said. "If I know I can score, I'm going to score, and if I feel like I'm not going to be able to, I know I can always kick it out to one of my teammates."
A teammate Gustafson particularly enjoys sharing the court with is fellow 6-3 center/forward Chase Coley, who recently moved to the power forward position.
"We started experimenting with it a while ago in practice and it was tough at first, but now that we're playing on the court together in games we're meshing well together," Gustafson said. "We're getting used to the system and it shows."
The duo combined to score 40 percent of the points and 52 percent of the rebounds for Iowa in its last two games. They also have an impact defensively in the Hawkeyes' zone.
"They really enjoy playing together," Bluder said. "They look for each other and we're big with both of them in there. It gives us some opportunities for mismatches on the offensive end and when we play zone defensively."
Iowa is also enjoying getting back on a winning track.
"It feels really good," Gustafson said. "Before these two wins, we came together and decided these last 10 games are a new season, and we are going to get back on a win streak. The momentum we have going now is going to be big against the teams we're coming up against next."