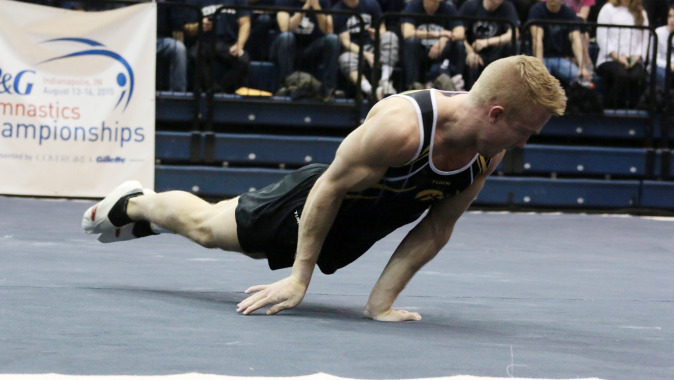 Fe 5, 2016
IOWA CITY, Iowa — University of Iowa junior Cory Paterson will represent the Hawkeyes in Canada this weekend, competing in the 2016 Artistic Gymnastics Championship in Halifax, Nova Scotia.
Paterson will join 32 other gymnasts in the competition. The group will perform in front of representatives of the Canadian National Team with hopes of being selected for the 2016 Olympics in Rio.
"Cory is fit and prepared for this," head coach JD Reive said. "It was fortuitous that we have this weekend off. He is in a good spot and it works out with class schedule. They are considering him for spots in the Pacific Rim Gymnastics Championships later in the season, Rio 2016, and the 2017 World Championships in Montreal. The opportunity to be in front of their national team coordinator is too good not to take up."
Paterson traveled to Canada last June when he competed in the Canadian Gymnastics Championships in Quebec. He was selected for the Canadian National Team earning a fifth place finish in the all-around competition (80.300).
The Artistic Gymnastics Championship begins today at 5 p.m. (CT) with the all-around competition and will continue throughout the weekend, ending with the individual event finals on Sunday at 9 a.m. (CT).