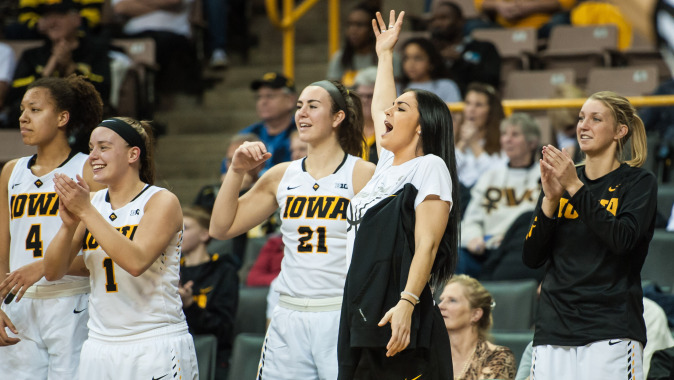 Feb. 6, 2016
Game Notes – vs Michigan State

THE SETTING
The University of Iowa women's basketball program will face No. 14/17 Michigan State for the second time this season inside Carver-Hawkeye Arena on Sunday, Feb. 7. The Hawkeyes will celebrate National Girls and Women in Sports Day by recognizing women's athletic teams at Iowa at halftime of the 2 p.m. (CT) contest. UI head coach Lisa Bluder will coach her 1,000th career game Sunday (St. Ambrose, Drake, Iowa).
PROMOTIONS
? Iowa will celebrate National Girls & Women in Sports Day at the game. All youth who wear a jersey to the contest will receive free admission.
? Go Red for Women, but wear Black and Gold to support the Hawkeyes.
? Free tickets are available at local MidWest One branches (Iowa City – Clinton St., Keokuk St., Rochester Ave., Coralville – 1st Ave., North Liberty – Hwy 965 NE), while supplies last.
? Several UI women's teams will sign autographs before the game.
GAME COVERAGE
? Fans can watch Sunday's game live online on BTN Plus available at btn2go.com.
? Audio of the contest is available on select Hawkeye Radio Network affiliate stations and on Hawkeye All-Access available at hawkeyesports.com. Brent Balbinot and Kathryn Reynolds will call the action.
? Balbinot is in his 12th year as Iowa's play-by-play voice, while Reynolds in in her first providing analysis.
? Reynolds, a member of the infamous Core Four and team captain for the Hawkeyes in 2014-15, is pursuing a law degree at the University of Iowa.
? Links to video, audio, and Gametracker (live stats) are available on the women's basketball schedule page at hawkeyesports.com.
SERIES RUNDOWN
? Iowa leads Michigan State, 35-27, in the all-time series.
? The Spartans have won two-straight games against the Hawkeyes, including the first matchup of the year in comeback fashion in East Lansing on Jan. 16, 80-73.
? In games played in Iowa City, the Hawkeyes lead the all-time series, 17-9.
? Under head coach Lisa Bluder, Iowa trails Michigan State, 14-12.
A LOOK AT THE SPARTANS
? Michigan State enters Sunday's contest with a 17-5 record overall, 8-3 Big Ten Conference mark, and a No. 14/17 national ranking.
? The Spartans collected conference wins against Wisconsin, at Penn State, against Northwestern, against Iowa, against Rutgers, against Purdue, at Wisconsin, and against Michigan. All of the team's losses in Big Ten play have come on the road at Ohio State, at Indiana, and at Maryland.
? As a team, Michigan State averages 76.4 points and 43.8 rebounds per game. Aerial Powers (20.7), Tori Jankoska (16.0), and Branndais Agee (12.2) average double figures in scoring. Powers also leads the squad with 8.5 rebounds per game.
? Powers was a preseason All-Big Ten selection by the coaches and media, while Jankoska was selected preseason All-Big Ten by the media.
? The roster, comprised of five freshmen, five sophomores, two juniors and three seniors, is led by ninth-year head coach Suzy Merchant.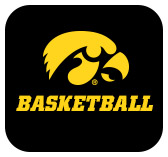 SEASON REWIND: B1G RETURN FOR MISS MICHIGAN BASKETBALL
? The Hawkeyes fell to Michigan State on the road in the first meeting of the season, 80-73, on Jan. 16. Freshman Tania Davis had a breakout performance in the contest in front of family, friends, and supporters.
? Davis, Miss Michigan Basketball in 2014-15, made a statement in her return to the Breslin Center in East Lansing, Michigan, where she won state titles with Goodrich High School in 2012 and 2013.
? Davis led the Hawkeyes with a career-high 16 points and a career-high matching five assists at Michigan State. She matched another career-high with six rebounds in the contest.
? In the first half, Davis was 3-for-3, sinking all three of her three-point field goal attempts.
? The Grand Blanc, Michigan, native closed the game with a .417 field goal percentage (5-12) and an .800 three-point field goal percentage (4-5).
FEELING AT HOME
? Sophomore Whitney Jennings is coming off of her best offensive game of her career, netting a career-high 22 points in her home state of Indiana against the Hoosiers on Feb. 4. The Hawkeyes dropped a 79-74 decision to Indiana.
? The Logansport, Indiana, native knocked down 9-of-17 field goals (.529) and sunk 3-of-7 three-point field goals (.429) in front of family and friends.
? She also matched her career-high for the second straight game with two blocks, and added two rebounds, two assists, and one steal to her line in 38 minutes played.
? Jennings was named Miss Indiana Basketball as a senior in 2013-14, and has played in every game of her Hawkeye career (57) with 52 career starts at point guard.
DOUBLE-DOUBLE X 3
? After making a statement last week, posting the first double-doubles of her career in back-to-back games against Michigan and at Northwestern, freshman center Megan Gustafson stretched it to three consecutive games with 12 points and a team-high 10 rebounds at Indiana.
? She netted 6-of-10 field goal attempts in her 26 minutes against the Hoosiers.
? Gustafson began the three-game stretch with 10 points and a career-high 12 rebounds against Michigan in 22 minutes.
? The Port Wing, Wisconsin, native followed that performance with 15 points and a career-high 13 rebounds at Northwestern in 33 minutes.
? Gustafson, who has started the last three games for the Hawkeyes, also notched three blocks and one steal against Michigan and at Northwestern.
COLEY EARNS B1G RECOGNITION
? Sophomore Chase Coley was named to the Big Ten Player of the Week Honor Roll for the first time in her career on Feb. 1 for her role in Iowa's victories against Michigan and at Northwestern last week.
? Coley led the Hawkeyes offensively in each contest, posting 21 points against the Wolverines and 19 points against the Wildcats. She added 10 rebounds to her line against Michigan to earn her third career double-double.
? On the week, Coley shot .789 (15-of-19) from the field and .833 (10-of-12) from the charity stripe.
? The Minneapolis, Minnesota, native also tallied five assists and three blocks in the two-game stretch.
CALL ON ME
? Junior Ally Disterhoft, a preseason All-Big Ten selection by league coaches, has been a consistent force for the Hawkeyes all season.
? Disterhoft, who averages 35.9 minutes per contest, is 11th nationally with 825 minutes played this season.
? The 6-0 forward paces Iowa in points (16.8) and rebounds (5.5) per game, along with sophomore Chase Coley and freshman Megan Gustafson. She is also third in assists, averaging 2.7 per contest, and steals, averaging 1.0 per game.
? She has scored double figures in every game of the season and in 67 of 73 career starts.
? The Iowa City, Iowa, native has led Iowa in scoring in 10 of 23 games this season, scoring 20 points or more in six contests.
? Disterhoft owns a .524 field goal percentage, .362 three-point field goal percentage, and .729 free throw percentage.
? She currently ranks 16th on Iowa's all-time scoring list with 1,343 career points and 21st all-time with 551 career rebounds. Disterhoft is the 34th player in program history to surpass the 1,000 career point threshold.
MOVING UP THE CHARTS
? Junior Ally Disterhoft is 15th on Iowa's all-time scoring list with 1,363 career points and 21st all-time with 556 career rebounds.
? She has played in every game of her Hawkeye career with 74 consecutive starts.
? Disterhoft has scored in double figures in every game this season, and in 68 of her 74 career starts.
? The co-captain leads Iowa in points (16.8) and rebounds per game (5.5), along with sophomore Chase Coley and freshman Megan Gustafson.
? Gustafson has compiled 37 blocks through 23 games played this season, which is fourth on the all-time freshman list at Iowa. The record at Iowa in a freshman season is 79 blocks, set by Morgan Johnson in 2009-10. She averages a team leading 1.6 blocks per game and has tallied three or more stuffs in seven games this year.
UP NEXT
The Hawkeyes continue their home stand against Ohio State on Thursday, Feb. 11 at 7:30 p.m. (CT). As a part of UI Faculty and Staff Appreciation Night, those with valid university IDs will receive free admission. Their guests can also gain admission for $1. Prior to the meet, there will be free manicures, hair styling, makeovers, and more for Girls Night Out.