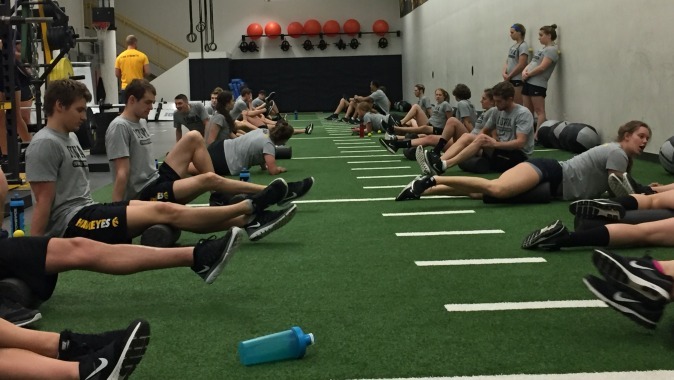 Feb. 8, 2016
Editor's Note: The following first appeared in the University of Iowa's Hawk Talk Daily, an e-newsletter that offers a daily look at the Iowa Hawkeyes, delivered free each morning to thousands of fans of the Hawkeyes worldwide. To receive daily news from the Iowa Hawkeyes, sign up HERE.
By JAMES ALLAN
hawkeyesports.com
IOWA CITY, Iowa — The University of Iowa swimming and diving program has long stressed recovery to its student-athletes, but the Hawkeyes have taken it to another level in 2015-16.
UI head coach Marc Long and assistant strength and conditioning coach Lindsay Dinkelman worked together to outfit each student-athlete with their own recovery bag. It includes items to aid in the recovery process outside of the weight room or team practice.
"We've had foam rollers in the past and we do routines together as a team on the pool deck, but we thought we'd take it to another level," said Long. "We decided to issue items for the athletes to take home and for them to have at all times at competitions."
The recovery bags include five items: foam roller, stretching band, lacrosse ball, tennis ball, and a yoga mat. The UI coaching staff provides specific routines for each, but then puts the onus on the student-athletes.
"The whole idea is for the student-athletes to take ownership of their recovery, along with sleep, nutrition, and stress management," said Long. "We thought this would help them when they leave the pool, weight room, or yoga session… they have items at their fingertips.
"We only see them about 10-plus percent of the week, and there is a lot of time out there. We wanted to give them the tools."
UI junior Brandon Farnum says the recovery bags have been a positive. In year's past, the Hawkeyes utilized the lacrosse balls, bands, and foam rollers, but it was always on team time.
"We were limited to utilizing the recovery items at Carver-Hawkeye Arena or at the pool and our time was limited after practice to whether you had class or not," he said. "I like to use the lacrosse ball at night to work on whatever is sore.
"(Having the recovery bags) allows us to make this part of our routine whether we're at home or on the road in a competition setting."
Dinkelman sees the recovery bags as a welcomed addition.
"It has been good for them because they're able to aid in the recovery process outside of the weight room and practice," she said. "It's in their hands. If they're feeling sore then they have the tools to do it at home. On days I don't see them or on off days, they're able to do the recovery part."
Dinkelman stresses recovery, calling it one of the most important factors in peak performance.
"It doesn't matter if you have the best training, strength and conditioning program, or nutrition, if you're not sleeping right and recovering from all those things, you're not at your best for your next session," said Dinkelman.
"We try to push and make sure they understand recovery is the key to success by taking care of themselves with sleep and nutrition. The training at the end of the day doesn't matter if you're putting unleaded gas into a Ferrari."
The recovery bags are a piece of the process.
"We need to get the student-athletes in a habit to have it be part of their day," said Long. "It's one component of what great recovery can be. We have to continue educating them about it, but the recovery bags are something we'll continue using."