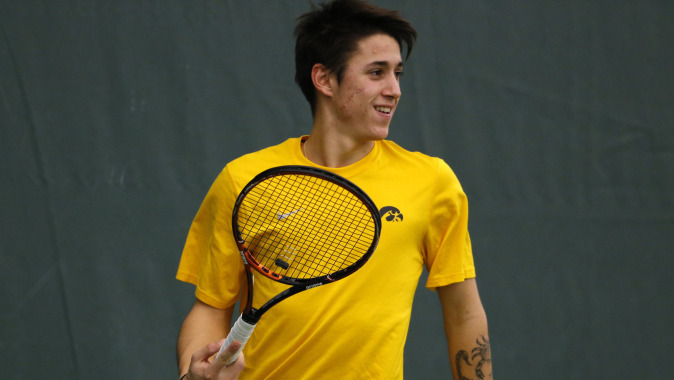 Feb. 10, 2016
Full Release

THIS WEEK:
The 62nd-ranked University of Iowa men's tennis team is on the road this Sunday, Feb. 14, for a match-up with the Middle Tennessee State Blue Raiders at the Adams Tennis Complex in Murfreesboro, Tennessee. Play will begin at 1 p.m. (CST).
LEFTY TARGETS 6-0:
Lefteris Theodorou has played at the No. 2 singles spot all season and currently holds the only undefeated record at, 5-0. In a total of 12 sets, he's dropped only two, one at the hands of Princeton's Thomas Colautti and the other to Maik Steiner of Western Michigan.
Theodorou is 9-4 all-time at No. 2, a position he spent time at during his freshman campaign when he went, 4-4. He also played in the No. 3 slot where he is, 9-4, all-time and No. 1 where he is undefeated with a record of, 3-0.
His last singles loss was at the Big Ten Championships last season where he fell to Farris Gosea of Illinois who was ranked No. 45 at the time.
COMFORTABLE AT No. 3:
Sophomore Josh Silverstein went, 2-0, in singles with a, 6-0, 6-2, decision against SIUE and a, 6-1, 6-1, over Western Michigan's last weekend.
He is currently playing in the top three for the first time in his collegiate career. Last season, Silverstein held a record of, 16-7, when he played at four and five. He has won six of his last seven matches dating back to last season.
"I think I have good momentum going into this Sunday. I feel strong out on the court and I'm confident in my strokes. Winning both matches easily last weekend helped with my confidence a lot."
SCOUTING THE COMPETITION:
The Blue Raiders enter Sunday's match with a home record of, 4-1, and an overall season record of, 5-2. They recently defeated No. 46 Louisville at home, 6-1.
The Hawkeyes have not competed against Middle Tennesse since March 23, 2008, in Houston, Texas. At the time, the Blue Raiders were ranked No. 72 while Iowa was ranked No. 49. The Hawkeyes won the match, 4-2.
COACH Ross Wilson ON MIDDLE TENNESSE:
"Obviously the guys are feeling good being 4-1. We're excited about that but Middle Tennessee is another tough opponent. They just opened a brand new indoor facility so I'm sure they'll have a lot of fans out. They just had a nice win last week against Louisville who is top 40 in the country so they've got a young talented team and we're going to have to be ready if we want to get in there and get a win."
FOLLOW THE HAWKEYES
Fans can follow the Hawkeyes all season long and receive live match updates on Facebook (facebook.com/IowaMensTennis) or on Twitter (@IowaMensTennis). Fans can also stay updated with the team off the court on Snapchat (uiowamenstennis). Don't forget to check out Twitter every Tuesday afternoon for the latest edition of #TennisTipTuesday where members of the Hawkeye squad give away expert tips and tricks to enhance your game.
LIVE STATS
Live stats will be available for Sunday's match at the following web address: http://www.sidearmstats.com/mt/mten/xlive.htm. Check our twitter and facebook the morning of for a direct link.