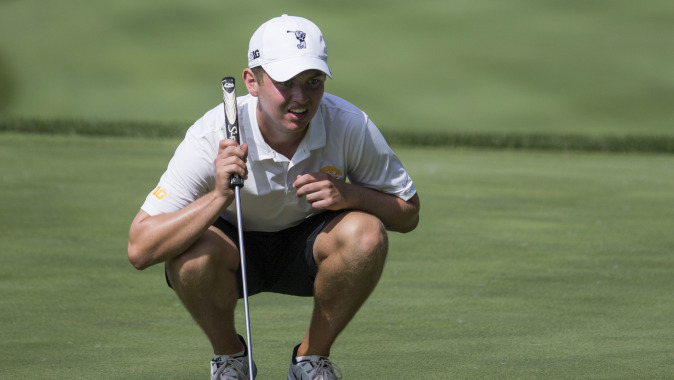 Feb.. 12, 2016
1st Round Results

| 2nd Round Results

| Round 3 Pairings

PALM COAST, Fla. — After topping Nebraska, 3.5-2.5, in the first round of the 2016 Big Ten Match Play Championships early Friday morning, the University of Iowa men's golf team fell to Purdue, 2-4, in the second. The two-day event is being played at the Hammock Beach Resort in Palm Coast, Florida.
In Iowa's first round tilt with Nebraska, the Hawkeyes earned victories from seniors Nate Yankovich and Voramate Aussarassakorn and freshman Matthew Walker.
Through four holes, Yankovich trailed Nebraska's Jackson Wendling by one before winning six of next 13 holes on his way to posting a 3-and-1 victory.
Aussarassakorn posted a 3-and-1 defeat over Dylan McCabe, while Walker earned a 1-up victory over Jace Guthmiller.
Iowa and Nebraska each earned half of a point after junior Carson Schaake halved his match with Michael Colgate. Schaake found himself 1-down with two holes remaining, but a birdie on 13 evened things up with one hole to play. Schaake and Colgate would both bogey hole 14.
After a loss in the first round, junior Raymond Knoll avenged himself with a 4-and-2 win over Purdue's Fernando Barco in the second. Knoll birdied three holes and sat one-under-par through 16 holes.
Walker picked up his second victory of the day, defeating Jarle Volden, 4-and-3. Walker and Volden went back-and-forth during the first eight holes before Walker went on a tear, winning five of the next seven holes.
It took all 18 holes for Purdue's Stuart Macdonald to pull off a 1-up victory over Schaake. The duo combined for a total of four lead changes.
The Hawkeyes will play two additional matches on Saturday, meeting Michigan in the third round at 7 a.m. (CT) before advancing to the placing match in the afternoon. Michigan lost in both rounds on Friday, falling to Rutgers, 2.5-3.5, and Penn State, 0.5-5.5. Live stats are available for all of Saturday's action at BirdieFire.com.
Iowa 3.5, Nebraska 2.5
1) Carson Schaake (Iowa) drew Michael Colgate, AS
2) Justin Jennings (Nebraska) def. Raymond Knoll, 3-and-2
3) Nate Yankovich (Iowa) def. Jackson Wendling, 3-and-1
4) Sean Song (Nebraska) def. Sam Meuret, 2-and-1
5) Matthew Walker (Iowa) def. Jace Guthmiller, 1-up
6) Voramate Aussarassakorn (Iowa) def. Dylan McCabe, 3-and-1
Purdue 4, Iowa 2
1) Austin Eoff (Purdue) def. Nate Yankovich, 7-and-6
2) Raymond Knoll (Iowa) def. Fernando Barco, 4-and-2
3) Stuart Macdonald (Purdue) def. Carson Schaake, 1-up
4) Brian Carlson (Purdue) def. Voramate Aussarassakorn, 4-and-3
5) Matthew Walker (Iowa) def. Jarle Volden, 4-and-3
6) Timmy Hildebrand (Purdue) def. Sam Meuret, 4-and-3