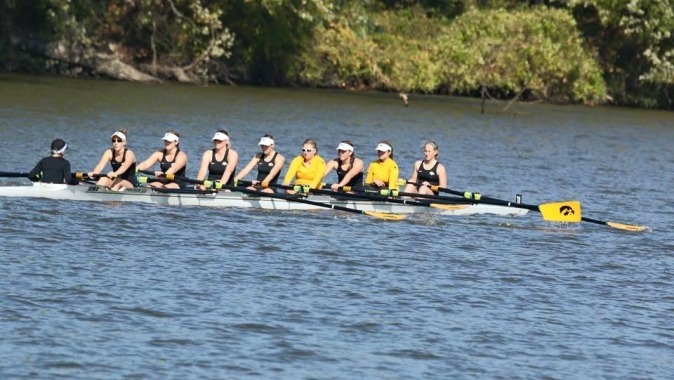 Feb. 13, 2016
Editor's Note: The following first appeared in the University of Iowa's Hawk Talk Daily, an e-newsletter that offers a daily look at the Iowa Hawkeyes, delivered free each morning to thousands of fans of the Hawkeyes worldwide. To receive daily news from the Iowa Hawkeyes, sign up HERE.
By ELISE GOODVIN
IOWA CITY, Iowa — Lou Krieger-Coen comes from a bloodline of athletic Hawkeye alums. She is the eighth student-athlete in her family to play a Division I sport at the University of Iowa, joining the rowing program this fall.
"I was born a Hawkeye fan." Krieger-Coen said. "I think I could sing the whole Iowa Fight Song by the age of 2."
Her Hawkeye family tree includes current football players Henry Krieger Coble and George Kittle, former volleyball player Emma Krieger-Kittle, baseball's Brad Carlson, basketball standout Jess Settles, former football player Bruce Kittle, and softball player Amy Krieger.
Krieger-Coen attended Winfield-Mount Union High School, where fellow family members Krieger-Coble and Settles both attended.
"When I was young, University of Iowa athletes seemed like celebrities to me and I always felt like my family was special because they were Hawkeye athletes," said Krieger-Coen. "I never fully understood how cool it was to have family members who played for Iowa until I attended Winfield- Mount Union High School.
"That's where my cousin, Jess Settles, graduated from. There's a trophy case there practically filled with his name. Walking past it every day for six years made me realize how big of a legacy he left, and how proud he made people, especially in that town."
Krieger-Coen competed in high school volleyball and track. Track was her favorite sport in high school, competing in the shot put and discus. She qualified for state track all four years of high school and for the Drake Relays as a junior and senior.
"Sports were brought into my life at a very young age," Krieger-Coen said. "Whether it was playing whiffle ball with my family, going to watch my older siblings compete in a sporting event, or practicing free throws outside on my chalk-made basketball court, it was always fun. I was never serious about sports until junior high."
Growing up she was able to watch three family members play for Iowa. When she was 12, she watched her cousin Krieger-Kittle start on the volleyball team. She transferred to Oklahoma after her freshman year to follow her dad, Bruce, a former Iowa offensive lineman and co-captain on Iowa's 1982 Rose Bowl team. He had taken a job as an on-campus recruiting coordinator.
Now Krieger-Coen is a fellow student-athlete with her cousins, Krieger-Coble and Kittle. Both were tight ends on the football team that played in the 2016 Rose Bowl.
"I was lucky to be able to watch three of my family members compete as Hawkeyes," said Krieger-Coen. "My cousin, Emma Kittle, was the first person in my family I got to see play as an Iowa athlete.
"Everyone in my family agrees that watching Henry and George play together was one of the greatest things ever."
Her family helped her decide to participate in athletics growing up, but joining the Iowa rowing team was all Krieger-Coen's idea. Since joining the Hawkeyes she has helped the 1N8+ row to a first place finish in the Jayhawk Jamboree as a novice this fall.
"A few of my family members helped me make my choice to join the rowing program, but overall, I ended up making the decision myself," said Krieger-Coen. "I decided I wanted to row because sports have been a part of my life for years and the thought of not being on any sort of team bothered me.
"I knew that if I didn't at least try, I would regret it."
As a novice, Krieger-Coen is learning the sport of rowing from the ground up this year, an experience that has allowed her to grow as an athlete.
"Rowing has been quite the experience," she said. "It was completely new to me at the beginning of this school year, so it was nerve-racking for a while, but it didn't take me long to get into a routine and feel comfortable. I've made some great friends through it, and I'm excited to see how my future in rowing will go."
She has more family members who played before her time and during her early childhood. Settles was an Iowa basketball standout from 1993-99. Settles is ninth on the all-time scoring list with 1,611 career points.
Carlson is a record holder for Iowa baseball. During his 1999-02 career, he set the career home run record. He hit the second-most home runs in a season with 21 in 1999.
Although the UI has been a significant part of her life, it wasn't always a shoe-in for where she wanted to go. Having success in track and field during high school, she wasn't ready to let go of the sport and continued to look at smaller schools where she could extend her throwing career.
Ultimately, Iowa won her heart.