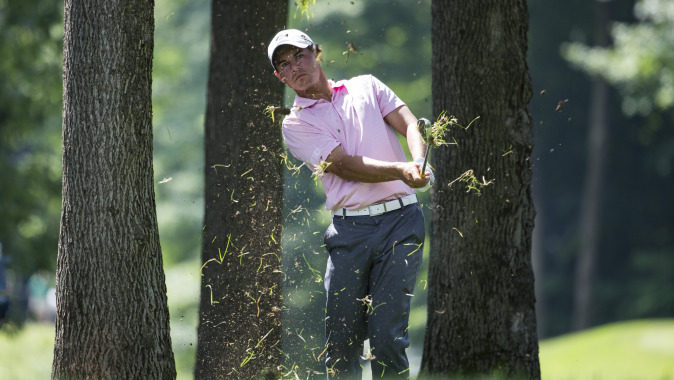 Feb. 13, 2016
3rd Round Results

| 7th Place Match

PALM COAST, Fla. — The University of Iowa men's golf team wrapped up play at the 2016 Big Ten Match Play Championships on Saturday afternoon. The Hawkeyes finished in eighth place at the annual conference event, which was played at the Hammock Beach Resort in Palm Coast, Florida.
Iowa and Michigan met twice on Saturday, once in the morning in the third round — the final round of the round-robin bracket — and then again in the afternoon in a battle for seventh place. The Wolverines got the best of the Hawkeyes in the first meeting, winning 4.5-1.5, but the two would tie, 3-3, in the second.
Since the two schools tied, a tiebreaker was used to declare the winner. Typically, whichever school wins the most holes is deemed winner, but since the hole count for both squads was 10, a second tiebreaker procedure was used. The outcome of the No. 1 match was in favor of Michigan and therefore the Wolverines were awarded seventh place.
"The guys put in a ton of work preparing for this weekend, so we're understandably disappointed with a 1-2-1 team record," said UI head coach Tyler Stith. " Individually, however, we showed much improvement in several facets of the game."
In Iowa's third round match with Michigan, freshman Matthew Walker picked up Iowa's lone win, posting a 2-and-1 victory over Michigan's Andrew Yeager. Walker won six out of the 17 holes played.
The Hawkeyes earned another half of a point from senior Nate Yankovich after he and Michigan's Brett McIntosh were all-square through 18 holes. Yankovich ended the weekend with an overall record of 1-2-1.
Iowa won three matches in its afternoon bout with Michigan, including another win from Walker, his fourth of the weekend. The Ottumwa, Iowa, native topped Nick Carlson, 4-and-2, making him one of six golfers to finish 4-0 this weekend.
"Matthew played outstanding in his first Big Ten Match Play tournament," said Stith. "He set a goal to go undefeated and came up with four big wins."
Iowa's second victory came from junior Carson Schaake, who defeated Chris O'Neill, 5-and-3. Schaake and O'Neill were all-square after two holes, but Schaake went on to win hole three and never looked back. The Omaha, Nebraska, native ended the weekend with a 1-2-1 overall record.
Senior Voramate Aussarassakorn earned Iowa's final win of the day and his second victory of the weekend after posting a 1-up win over Michigan's Reed Hrynewich.
"The spring season is a long journey," said Stith. "We gained experience this weekend, hitting shots under pressure and holding big putts will benefit us for the rest of the season."
BTN will broadcast the 2016 Big Ten Match Play Championships via tape delay on Saturday, Feb. 27 at 11 a.m. (CT).
Round 3 — Michigan 4.5, Iowa 1.5
1) Kyle Mueller (Michigan) def. Carson Schaake, 3-and-2
2) Chris O'Neill (Michigan) def. Raymond Knoll, 1-up
3) Reed Hrynewich (Michigan) def. Aaron DeNucci, 2-and-1
4) Nate Yankovich (Iowa) drew Brett McIntosh, AS
5) Bryce Evon (Michigan) def. Voramate Aussarassakorn, 3-and-2
6) Matthew Walker (Iowa) def. Andrew Yeager, 2-and-1
7th Place Match — Michigan 3, Iowa 3
1) Kyle Mueller (Michigan) def. Raymond Knoll, 3-and-2
2) Carson Schaake (Iowa) def. Chris O'Neill, 5-and-3
3) Matthew Walker (Iowa) def. Nick Carlson, 4-and-2
4) Tom Swanson (Michigan) def. Nate Yankovich, 2-and-1
5) Brett McIntosh (Michigan) def. Aaron DeNucci, 5-and-4
6) Voramate Aussarassakorn (Iowa) def. Reed Hrynewich, 1-up