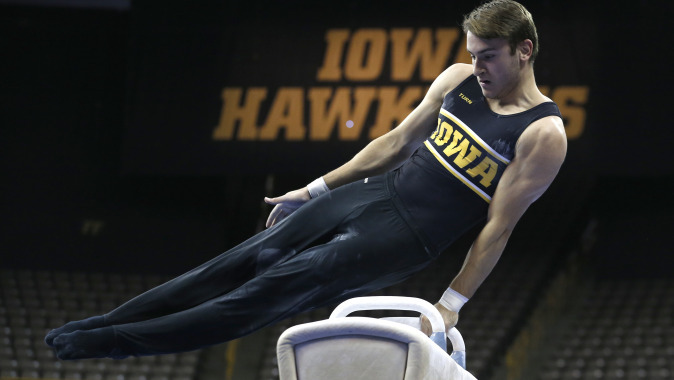 Fe 13, 2016
Full Results

MINNEAPOLIS, Minnesota — The No. 7-ranked University of Iowa men's gymnastics team competed in the Twin Cities against No. 3 Minnesota, No. 5 Illinois and No. 2 Stanford. The Hawkeyes placed fourth overall with a team score of 419.700.
Along with a trio of top five teams, Iowa shared the gym with the Canadian National Team and the University of Minnesota Club team. Minnesota (432.650) won the meet followed by Stanford (432.300), Illinois (429.750), the Canadian National Team (426.900), Iowa (419.700) and the University of Minnesota Club team (161.950).
Freshman Jake Brodarzon kicked off the meet for the Hawkeyes on parallel bars with a 13.550. Two scores of 14.250 by redshirt senior Cyrus Dobre-Mofid and sophomore Dylan Ellsworth led the team and after the first rotation Iowa sat in fifth place with a 68.750.
On high bar, Dobre-Mofid led the team for the second straight event with a 14.350. Junior Andrew Botto finished second on the team with a 13.900 and freshman Rogelio Vazquez posted a 13.600 for third on the team.
Following Olympic order, floor exercise was up next for the Hawkeyes. Senior Matt Loochtan had a strong routine on the event and led the team with a 15.000, placing third overall. Sophomore Dylan Ellsworth put together a 14.650 performance and junior David Spanier posted a 14.400.
The Hawkeyes put up their highest event total of the evening with a 72.400 and were sitting in 5th place heading to the fourth rotation.
Pommel horse was next for Iowa. Senior Doug Sullivan led the team with a 14.00 and a seventh place finish overall followed by senior Del Vecchio Orozco's 13.600 and junior Emmanuel Monroy's 13.250.
In the second to last rotation on rings, Botto's 14.750 effort led the team followed by Loochtan with a 14.650. Botto's score placed him third overall and Loochtan finished in sixth place.
Iowa finished the meet on vault, the team's best event this season, and finished strong with a 73.300 overall. Loochtan led the way again with a 14.950 and placed sixth overall. Spanier followed close behind with a 14.800 and junior Mark Springett posted a 14.600 for third on the team.
In the all-around competition Ellsworth placed eighth with a score of 81.950 and senior Jack Boyle placed behind him in ninth with an 80.200.
Iowa takes this next week off, while select gymnasts are going to Las Vegas, Nevada, for the Winter Cup Feb. 18-20.