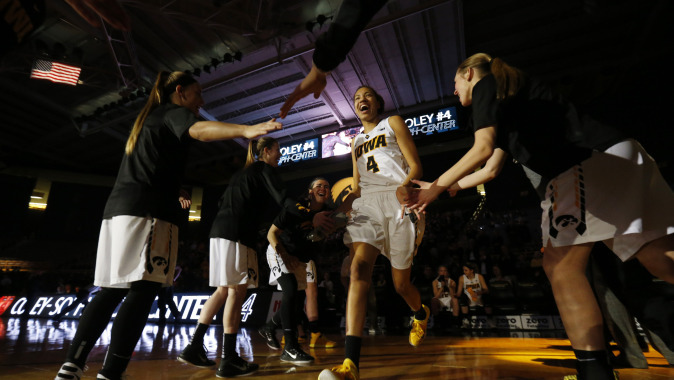 Feb. 16, 2016
Game Notes – vs Purdue

THE MATCHUP
The University of Iowa women's basketball team hosts Purdue on Thursday, Feb. 18 at 7 p.m. (CT) inside Carver-Hawkeye Arena.
PROMOTIONS
? Thursday is Alumni Association Night. Discounted tickets are available for UI Alumni Association members ($8 for adults, free for youth) if ordered in advance.
? Fans who bring a new, unopened pet toy or food to donate to the Iowa City Animal Shelter will receive $2 off admission to any home game this season as a part of Hawkeye Pet Night.
GAME COVERAGE
? Fans can watch Thursday's game live online through BTN Plus available at btn2go.com.
? Audio of the contest is available on select Hawkeye Radio Network affiliate stations and on Hawkeye All-Access available at hawkeyesports.com. Brent Balbinot and Kathryn Reynolds will call the action.
? Balbinot is in his 12th year as Iowa's play-by-play voice, while Reynolds in in her first providing analysis.
? Reynolds, a member of the infamous Core Four and team captain for the Hawkeyes in 2014-15, is pursuing a law degree at the University of Iowa.
? Links to video, audio, and Gametracker (live stats) are available on the women's basketball schedule page at hawkeyesports.com.
SERIES RUNDOWN
? Purdue leads Iowa, 36-31, in the all-time series, but the Hawkeyes hold an 18-10 edge in games played inside Carver-Hawkeye Arena.
? The Hawkeyes have won three consecutive games against the Boilermakers in Iowa City. This is the first home game of the series since 2012-13.
? In the Lisa Bluder era, Iowa trails Purdue, 17-11.
A LOOK AT THE BOILERMAKERS
? The Boilermakers, who enter the game 16-9 overall and 7-7 in Big Ten play, have lost four consecutive games against Maryland, at Wisconsin, at Maryland, and against Michigan.
? As a team, Purdue averages 68.4 points and 36.4 rebounds per contest. Three average double figures in scoring, including April Wilson (14.6), Ashley Morrissette (12.5), and Bridget Perry (11.5).
? In conference games alone, Purdue averages 69.6 points and 36.4 rebounds per game. Four average double figures, including Wilson (14.5), Morrissette (12.9), Perry (11.8), and Andreona Keys (10.2).
SEASON REWIND
? The Hawkeyes fell to the Boilermakers, 90-73, on Jan. 24, 2016.
? Iowa shot 52.0 percent, but the Boilermakers shot 58.6 percent and outrebounded the Hawkeyes 34 to 20 for the win.
? Disterhoft led the Hawkeyes offensively with 21 points, followed by Tania Davis and Christina Buttenham who each netted 14. Davis dished out a team-high seven assists and Chase Coley pulled down a team-high eight rebounds.
? Purdue had four score in double figures for the win, including April Wilson (24), Dominique McBryde (18), Ashely Morrissette (15), and Andreona Keys (10). Wilson added 12 assists for a double-double.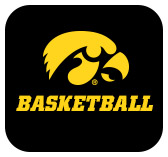 DOUBLE-DOUBLE MACHINE
? In the last six games, freshman Megan Gustafson has posted five double-doubles, the first of her career.
? The stretch began with three consecutive double-doubles against Michigan (12 rebounds, 10 points) on Jan. 28, at Northwestern (15 points, 13 rebounds) on Jan. 31, and at Indiana (12 points, 10 rebounds).
? After recording eight rebounds and seven points against Michigan State on Feb. 7, Gustafson returned to her double-double ways with 13 points and 11 rebounds against Ohio State on Feb. 11.
? The Port Wing, Wisconsin, native secured her fifth double-double at Minnesota on Feb. 15, tallying 14 points and a career-high 19 boards. The last player to record more than 17 rebounds in a game was Samantha Logic (vs. Drake on Dec. 21, 2013). The Iowa record for rebounds in a game is 26 (Jerica Watson vs. Creighton on Dec. 15, 2001).
? Gustafson has led Iowa in rebounds in six-straight contests, after not registering a single rebound against Purdue on Jan. 24.
BIG DIFFERENCE
? Since altering the lineup to include freshman Megan Gustafson and sophomore Chase Coley, the Hawkeyes have seen an increase in production offensively.
? In the last seven games, Iowa has had five players average double figures in scoring rather than three in the previous 19 games. Leading the pack is junior Ally Disterhoft (18.9), followed by Coley (14.4), sophomore Whitney Jennings (11.4), Gustafson (11.1), and freshman Tania Davis (11.0).
? The team has also increased its points per game average from 73.0 to 76.7.
? Gustafson, who has led Iowa in rebounds in six consecutive games, has seen her rebounds per game average spike from 4.8 to 10.4 in the last seven games, while Coley has made the jump from 5.0 to 7.6.
? The 6-3 duo accounts for 50 percent of the team's rebounding effort and 33 percent of Iowa's offensive production.
MOVING UP THE CHARTS
? Junior Ally Disterhoft is 14th all-time in three-point field goals made (101), 15th all-time in scoring (1,420 career points), and 18th all-time in rebounding (575 career rebounds) in Iowa women's basketball history.
? Disterhoft, who has played in every game of her Hawkeye career with 77 consecutive starts, has scored double figures in every game this year and in 71 of her 77 career starts.
? Megan Gustafson has compiled 42 blocks through 26 games played this season, which is fourth on the all-time freshman list at Iowa. The program record of 79 stuffs was set by Morgan Johnson in 2009-10. Gustafson averages a team-leading 1.6 blocks per contest and has compiled three or more stuffs in seven games this season.
DISTERHOFT EARNS ACADEMIC ALL-DISTRICT ACCOLADES
? Junior Ally Disterhoft earned Capital One Academic All-District first team recognition for the second consecutive season for her efforts on the court and in the classroom on Feb. 11.
? She advances to the Capital One Academic All-America Team ballot, where first, second, and third team All-America honorees will be elected in late February.
? Disterhoft, the lone sophomore in the country to earn Capital One Academic All-America third team accolades in 2015, is a business major studying accounting and finance.
? The Iowa City, Iowa, native is a four-time Dean's List honoree, academic All-Big Ten selection, Big Ten Distinguished Scholar, and two-time Presidential Committee on Athletics Scholar Athlete.
? She was also recognized as Iowa's female Student-Athlete of the Month in November — an award voted on by UI student-athletes.
UP NEXT
Iowa hosts Indiana inside Carver-Hawkeye Arena on Sunday, Feb. 21 at 2 p.m. (CT).