Feb. 17, 2016
THIS WEEK:
The 66th-ranked University of Iowa men's tennis team travels to Kansas this Sunday, Feb. 21 for a match up against No. 65 Wichita State Shockers. The Hawkeyes are set to start the day at 11 a.m. (CST) outside at the Genesis Health Club.
LOOKING LEFT:
Lefteris Theodorou, a sophomore on the Hawkeye squad, was 5-0 going into last Sunday's match against Middle Tennessee. Blue Raider Gonzalo Morell marred that perfect record with a, 7-6 (5), 6-4, decision over Theodorou.
"I was motivated to go undefeated for as long as I could but I was a bit unlucky last weekend. I lost because I was really negative and that's something that I'm working on."
The Athens native was the only undefeated Hawkeye as of last week. Last season, Jake Jacoby remained undefeated through four matches until falling to Kristiyan Trukov of Marquette, 6-3, 3-6, 10-1.
"Right now I'm working on staying positive in my matches and only focusing on what I can control. If I can do those things I'll be in a good place for our match against Wichita State," said Theodorou.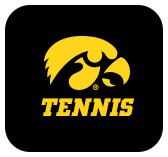 SCOUTING THE COMPETITION:
Wichita State enters Sunday's match at No. 65 in the latest ITA rankings, just one spot above the Hawkeyes. The Shockers also have two ranked doubles teams in their line-up. The duos of Miroslav Herzan/ Haru Inoue and Tin Ostojic/ Jocelyn Devilliers are ranked No. 22 and No. 38, respectively.
The Shockers have one win on their home courts against a ranked opponent this season. They defeated then No. 51 South Carolina, 4-2.
"They've been a nationally ranked team for the last couple of years. They've got a really good one and two player and guys that have had a lot of success," said Iowa head coach Ross Wilson.
"It's going to be a tough match this weekend for sure."
COACH WILSON ON PRACTICE AND ROAD MATCHES:
This week in practice we have to work on our attitudes and especially be aware of when we get into tight situations where maybe we're down a little bit and things aren't going our way. We need to do a better job of weathering the storm, being calm and thinking our way through those matches and those points so that we can turn the tide and get momentum in order to pull out close matches on the road. Our schedule is really tough and it's tough to win on the road so we'll have to make those adjustments if we want to be successful, especially this weekend against Wichita State.
FOLLOW THE HAWKEYES
Fans can follow the Hawkeyes all season long and receive live match updates on Facebook (facebook.com/IowaMensTennis) or on Twitter (@IowaMensTennis). Fans can also get a behind the scene look on Snapchat (uiowamenstennis). Don't forget to check out Twitter every Tuesday afternoon for the latest edition of #TennisTipTuesday where members of the Hawkeye squad give away expert tips and tricks to enhance your game.
LIVE STATS
Live stats will be available for Sunday's match on the Iowa men's tennis schedule page at hawkeyesports.com. Check out our twitter and facebook the morning of for a direct link.