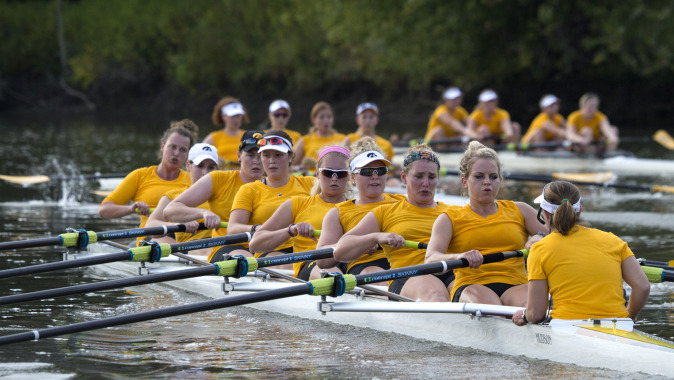 Feb. 21, 2016
Download your Hawk Talk Monthly android app

AUSTIN, Texas — The University of Iowa women's rowing program gained more racing experience in its second scrimmage of the weekend at Texas on Sunday.

The Hawkeyes and Longhorns, defending Big 12 Champions and seventh-place NCAA finishers, went head-to-head on a 1250-meter course on Lady Bird Lake.

"The scrimmaging was really productive today," said head coach Andrew Carter. "The Texas coaching staff put together a great session and we were able to take a lot away from the experience.

"There was some really spirited rowing on both sides and both teams deserve a great deal of credit."

Carter was proud of the effort the Hawkeyes put forth in the scrimmage and encouraged by the progress the team continues to make, especially against quality programs.

"Texas obviously had a terrific season last year and I think that lends good context to the results of the session." Carter said. "I think we continue to progress and having the chance to inject some external competition, even in this informal form, provides some nice motivation to our crews at this time of year."

Iowa opens its regular season at the Big Ten/ACC Double Dual on April 2 in Bloomington, Indiana. The Hawkeyes will compete against Louisville, the fourth place ACC finisher in 2015, and Notre Dame, ACC runner-up and 16th place finisher at the NCAA Championship in 2015.