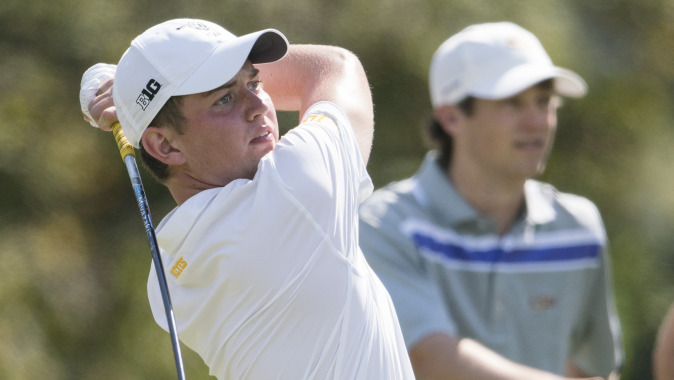 Feb. 22, 2016
Editor's Note: The following first appeared in the University of Iowa's Hawk Talk Daily, an e-newsletter that offers a daily look at the Iowa Hawkeyes, delivered free each morning to thousands of fans of the Hawkeyes worldwide. To receive daily news from the Iowa Hawkeyes, sign up HERE.
BY SAM STYCH
hawkeyesports.com
IOWA CITY, Iowa — The emergence of University of Iowa freshman men's golfer Matthew Walker doesn't come as a surprise to UI head coach Tyler Stith.
"Matt is someone who expected to play from day one and he has shown that with his work ethic," said Stith. "Now we're starting to see someone who is gaining confidence each and every week. It doesn't surprise me that he has played in every tournament for us."
"I knew I had the game, I just had to come out here and prove it to the coaches and my teammates," said Walker. "I didn't come here to sit out for a year, I wanted to contribute right away."
That's what he has done.
Walker, a native of Ottumwa, Iowa, competed in all four events in the fall to become the first true freshman to compete in every fall tournament for the Hawkeyes since Cole Peevler in 2005. He averaged 75.67 strokes per round and helped Iowa to its first team title under second-year head coach Tyler Stith at the GolfWeek Conference Challenge in September.
Since competing in his first collegiate event at the Gopher Invite, where he finished tied for 55th with a 54-hole 227 (+14), Walker's game has only gotten better and a big factor has been his growth in confidence.
"My first tournament I was nervous," said Walker. "Ever since then, my confidence has progressively gotten better. I'm starting to play my game."
With a full fall season under his belt and an offseason spent working with the Iowa coaching staff, Walker is poised for a big spring, which kicked off last weekend in Palm Coast, Florida, with the Big Ten Match Play Championships.
While Iowa finished eighth as a team, Walker posted a 4-0 individual record in what was his first-ever match play event. He was also one of only six golfers to finish unbeaten at the two-day event.
"I hit the ball well and didn't have too many bad holes," said Walker. "There were stretches where I wasn't playing the greatest, but I still found a way to come out on top."
Stith had nothing but praise about the freshman's performance.
"I'm proud of him and I know his teammates are, too," said Stith. "It was nice to know that you could count on him for a point every day and that he was going to go out and win his match. What he was able to do in his first-ever match play event was impressive."
While Stith likes the progress Walker has made in his first year, he knows that he still has a long ways to go before he reaches his full potential.
"Matt loves the game of golf," said Stith. "I'm not sure that there is anybody on the team that works harder than he does. He's going to have to continue to get more comfortable in tournament settings, but the more he plays the more he will get used to playing major tournament golf. It's not going to be long until he wins a college golf tournament."
The Hawkeyes return to action at the Southwestern Jones Invitational in Los Angeles on Feb. 29-March 1.