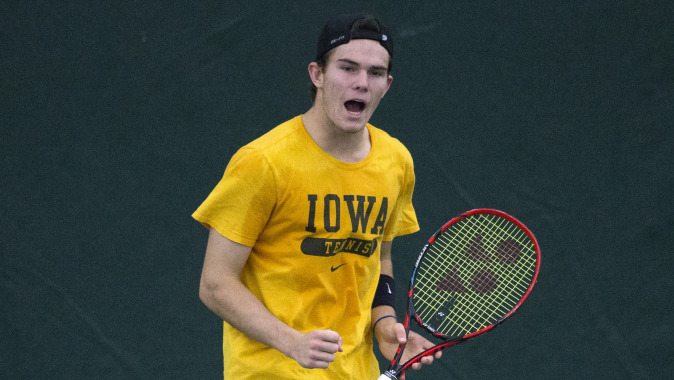 Feb. 24, 2016
Full Release

THIS WEEK:
The 43rd-ranked University of Iowa men's tennis team is back home Friday for a double-header at the Hawkeye Tennis and Recreation Complex (HTRC). Iowa will start the day against IUPUI at 11 a.m. (CT). Iowa's women's tennis will take the court for a match against Northern Iowa in between the men's match-ups. The men will pick up their rackets to take on No. 40 Denver at 6 p.m. (CT) at the conclusion of the women's match. Admission for all matches is free to the public.
HAWKS SOAR:
The Iowa Hawkeyes are ranked No. 43 in the latest Oracle/ITA rankings, marking the highest ranking the program has received in program history. Iowa's last ranking was No. 66. The team started the season at No. 71 in the ITA preseason poll.
HEAD COACH Ross Wilson ON No. 43 RANKING:
"Our goals are the same. We want to make the NCAA tournament, we want to finish top four in the Big Ten, and we want to win every match that we play. I think it's a nice reward for the guys for working hard and getting some wins in some tough matches early on in the season, but we know we're going to be judged at the end of the year by our 11 best wins. We're only six matches in and we've got a lot more opportunities coming up to beat some higher ranked teams and get some more nationally ranked wins on our record. We're looking forward to trying to do that."
MOVIN' ON UP:
Freshman Jonas Larsen has struggled out of the gate, but held his own after moving up a spot last weekend.
"His record definitely doesn't reflect the type of player he is," said UI head coach Ross Wilson.
"The whole time he was out there, to me, he looked mentally tough and like he wanted to be out there. He just had that look where you just knew he was going to win."
The Danish newcomer went 1-1 at No. 6 before moving to No. 5 where he grabbed one of four matches, leaving him with a 2-4 record going into last Sunday's match against No. 65 Wichita State. Larsen proved his worth when he clinched the match in Kansas for the Hawkeyes with a, 6-3, 2-6, 6-4, decision over Sergio de Vilchez.
"Most teams are really tough to play against," said Larsen, "It's just a battle every time and you have to for fight for it."
SCOUTING THE COMPETITION:
IUPUI enters Friday's match with a 2-11 record and is currently 0-9 on the road. As of last Sunday, the Pioneers are on a 10 match losing streak after a loss to Michigan State in East Lansing.
Iowa last faced Denver on their home courts in Colorado in 2010. The then 49th-ranked Hawkeyes fell, 6-1, to the 32nd-ranked Pioneers.
Denver enters Friday's match ranked 40th in the country, with two individuals and two doubles teams ranked. Junior Diogo Rocha holds the 64th spot in the ITA rankings in singles and No. 56 with partner Zach Fryer. The duo is 3-0 on the season, all at the No. 2 position.
"We have a great opportunity for us coming up on Friday against a tough Denver team," said Wilson. "They're going to be a tough opponent, especially at the top in singles and their doubles line up as well. They're well coached by both of their coaches and we're going to have to be ready to go on Friday night."
FOLLOW THE HAWKEYES
Fans can follow the Hawkeyes all season long and receive live match updates on Facebook (facebook.com/IowaMensTennis) or on Twitter (@IowaMensTennis). Fans can also get a behind the scene look on Snapchat (uiowamenstennis).