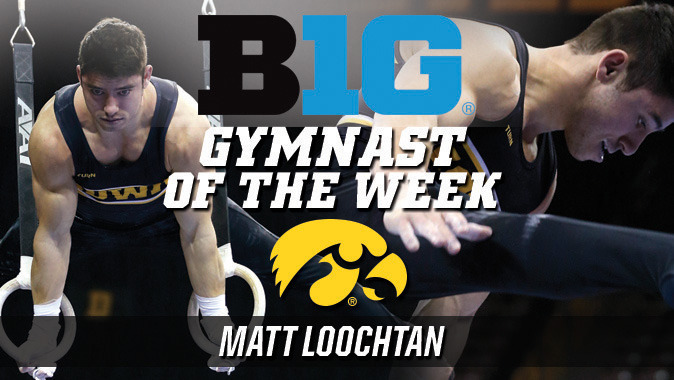 Feb. 29, 2016
IOWA CITY, Iowa — University of Iowa senior men's gymnast Matt Loochtan was named Big Ten Gymnast of the Week on Monday after helping Iowa defeat No. 6 Nebraska and No. 8 Penn State on Feb. 27 inside the UI Field House.
It is Iowa's first Gymnast of the Week nod since Jan. 26, 2015, when senior Jack Boyle won the award. This is Loochtan's second weekly honor of his career. He won Big Ten Freshman of the Week on April 1, 2013.
Loochtan earned five event titles on floor (15.350), rings (15.150), vault (14.450), parallel bars (14.850) and high bar (14.450) to help the Hawkeyes finish atop the leaderboard. His all-around score of 86.400 is a career-high.
The Hawthorn Woods, Illinois native, who was named a Big Ten Gymnast to Watch in the preseason, has won seven event titles this season and is a team co-captain.
Iowa returns to action on March 5 in Columbus, Ohio, for the Arnold Classic at Ohio State.