Box Score
March 3, 2016
Final Stats | Photo Gallery

By DARREN MILLER
hawkeyesports.com
INDIANAPOLIS — How impressive was the University of Iowa's 97-85 victory over Michigan on Thursday in the second round of the Big Ten Women's Basketball Tournament at Bankers Life Fieldhouse?
So impressive that after the game, UI head coach Lisa Bluder was at a loss as to who to single out for their stellar play.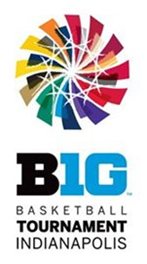 Was it freshman Megan Gustafson, who compiled her eighth double-double in the last 11 games with 25 points and 10 rebounds? How about sophomore Chase Coley with a double-double of her own (20 points, 10 rebounds) to go along with six assists? Don't forget dependable junior Ally Disterhoft's 22-point, five-rebound, and five-assist performance. Or freshman guard Tania Davis, who turned in a more unconventional double-double with 10 points and 10 assists.
"I could name them all," Bluder said. "Every one of our players contributed and I'm proud that after that kind of disastrous start we bounced back and I'm proud of their courage in doing that."
By disastrous start, Bluder meant a 24-8 hole the Hawkeyes dug for themselves less than seven minutes into the game. Iowa took its first lead at 38-36 when Disterhoft sank the first of two consecutive 3-point field goals with 6:01 left before halftime.
In a game of runs, the Hawkeyes did most of the running and they prevailed in the highest-scoring game they have been part of all season. It is the most points they have scored in a game since winning at Northwestern, 102-99, on Jan. 29, 2015.
"We worked for good shots and we did a good job being patient with the ball when we needed to at the end," Bluder said. "To come into the Big Ten Tournament and score 97 points is pretty incredible."
Iowa posted the third-highest point total in Big Ten Tournament history by shooting 61 percent from the field (37-of-61) and 67 percent from 3-point range (8-of-12). The Hawkeye interior presence of Coley and Gustafson combined to make 20-of-26 field goals and pull down 20 rebounds.
With that production, it's easy to see how the Hawkeyes assisted on 28-of-37 made field goals and committed just nine turnovers.
"It is smart guards, right? They kept going to the well," Bluder said. "If the well is giving you something, you go back to it and they did. I'm happy with that. Twenty-eight assists and only nine turnovers is an excellent job passing the ball."

| | | | | | |
| --- | --- | --- | --- | --- | --- |
| | 1st | 2nd | 3rd | 4th | Final |
| Iowa (19-12) | 21 | 31 | 18 | 27 | 97 |
| Michigan (17-13) | 29 | 13 | 20 | 23 | 85 |
| | | |
| --- | --- | --- |
| Stats at a Glance | IOWA | MICH |
| FG Percentage | 60.7 | 44.4 |
| 3-Point FG Percentage | 66.7 | 54.5 |
| FT Percentage | 71.4 | 81.8 |
| Total Rebounds | 33 | 36 |
| Points in the Paint | 40 | 36 |
| Points off Turnovers | 21 | 9 |
Coley scored six of Iowa's first eight points and finished in double figure points for the seventh time in the last eight games. When the Hawkeyes got down by 16, they leaned on offensive production from Disterhoft, Whitney Jennings, Gustafson, Christina Buttenham, Davis, and Coley until they took the lead for good with 3:51 left in the second quarter.
"We emphasized that we have to fight," Coley said. "If we come out strong and play the game we know we can play, we're going to be in this game, no problem. We play unselfish and the reason I scored is because my teammates found me; the reason my teammates scored is because we found each other."
Disterhoft paced the Hawkeyes with 17 points during their highest-scoring first half of the season. Iowa was down, 24-8, with 3:09 left in the first quarter, then rallied to take a 52-42 lead at halftime.
Disterhoft, Coley (12 points) and Gustafson (11) all had double figures in points after 20 minutes. The trio combined to make 16-of-20 field goals (80 percent); the Hawkeyes shot 66 percent as a team at the break (21-of-32) with five 3-pointers and 15 assists on 21 made field goals.
Iowa has won its opening game at the Big Ten Tournament for a fourth season in a row. You could also say the Hawkeyes blocked Michigan from advancing: Iowa rejected a season-high 12 shots, led by Coley with six.
Davis wasn't the only player sharing the ball. Coley (six), Disterhoft (five), and Jennings (five) all had more than five assists.
The Hawkeyes made 8-of-12 3-point field goals, the most since sinking nine against Michigan on Jan. 28 in Carver-Hawkeye Arena. Disterhoft was 4-of-4, Davis was 2-of-2, and Buttenham was 2-of-3.
Michigan was led by first-team All-Big Ten performer Katelynn Flaherty with 31 points. She averaged 28.7 points per game in three meetings against the Hawkeyes this season.
Iowa returns to action Friday against top-seeded Maryland (27-3) at 11 a.m. (CT) inside Bankers Life Fieldhouse. The Terrapins won the lone meeting of the season, 76-56, on Jan. 10 in Iowa City, Iowa.
"We have nothing to lose, but we know we're up against a great opponent," Bluder said. "We needed to win this one (against Michigan) to prove we weren't the ninth seed and I think we proved that."