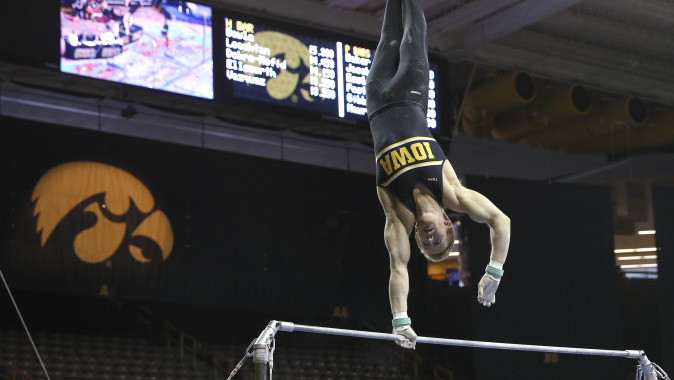 March 5, 2016
Complete Results

Columbus, Ohio — The University of Iowa men's gymnastics team competed in the annual Arnold Challenge on Saturday afternoon. The event featured Iowa, Nebraska, and host Ohio State inside the Celeste Center.
Iowa couldn't keep up with Ohio State and Nebraska as the two set school records for overall team scores in the season's second five-up, five-count meet. Ohio State (447.400) won the meet, followed by Nebraska (437.600), and Iowa (426.950).
The Hawkeyes began on floor exercise, where senior Matt Loochtan placed fourth overall with a 15.050 to lead Iowa. Senior Jack Boyle recorded a 14.750 to tie for seventh place, while junior Mark Springett placed 12th with a 14.150 effort.
On pommel horse, Iowa scored a 70.950, surpassing their average of 68.425 this season. Senior Doug Sullivan placed fourth overall, posting a 15.250 to get back on track after two meets without a score above 15.000. Senior Emmanuel Monroy scored a 14.750, setting a season-high and placing seventh in the event. Sophomore Austin Hodges tied for 12th with a score of 14.000.
Loochtan was responsible for the Hawkeyes' first top three finish of the afternoon on rings, placing third with a score of 15.100. Boyle finished close behind, scoring a 14.850 to tie for fifth place. Springett placed 10th with a score of 14.350.
At the halfway point, Iowa trailed Ohio State by 11.100 and Nebraska by 5.350.
In the fourth rotation, junior Andrew Botto held the top spot for Iowa on vault. He recorded a 14.700, 0.100 shy of his season high, to place eighth overall. Loochtan scored a 14.550 for 10th, followed by Springett in 11th place with a 14.450.
Boyle led the way for Iowa on parallel bars, setting a career-high with a score of 15.000 for fourth place, while Loochtan finished seventh with a career-high matching score of 14.850. Senior Cyrus Dobre-Mofid finished 12th with a 14.100 effort.
The Hawkeyes ended the day on high bar, where Boyle grabbed Iowa's second top-three finish of the evening with a third place result (14.900). Loochtan tied for seventh with a score of 14.650, and freshman Rogelio Vazquez set a career-high with a 14.100 to finish 11th.
Boyle and Loochtan competed together in the all-around for the third-straight meet. Loochtan placed second overall, falling .100 short of tying his career-high with a score of 86.300. Boyle posted an 85.850 for third.
The Hawkeyes return to Carver-Hawkeyes Arena on March 12 for their final home meet of the regular season against Minnesota at 5 p.m. (CT). The event will serve as Senior Night for Boyle, Loochtan, Monroy, Del Vecchio Orozco, Sullivan, and Dobre-Mofid.