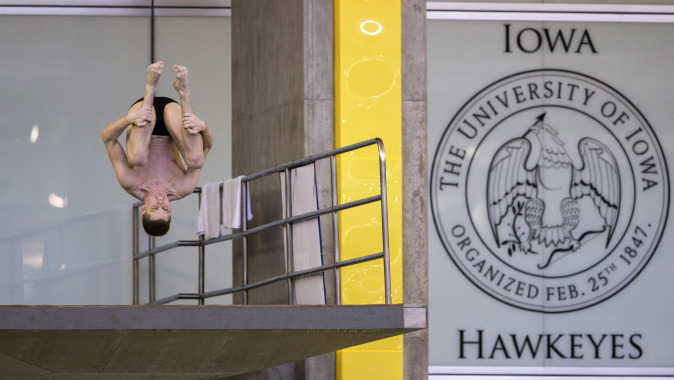 March 5, 2016
THIS WEEK
The University of Iowa diving team will travel to College Station, Texas, for the NCAA Zone D Diving Championships from Monday through Wednesday at the Student Recreation Natatorium on the Texas A&M campus. Admission is free to the competition.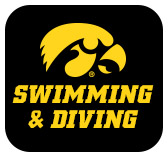 LIVE RESULTS
Live results from all the zone meets can be found at: divemeets.com. Fans can also follow the meet via Twitter by following @IowaSwimDive.
REPRESENTING IOWA
Iowa will be represented by11 divers at the NCAA Zone D Championships – sophomore Morgan Rafferty, freshman Jacintha Thomas, junior Cali Head, and junior Lydia Lehnert for the women, and freshman Will Brenner, junior Brandis Heffner, senior Addison Boschult, senior Andrew Hull, and sophomore Evan Hull for the men.
THE FIELD
The NCAA Zone D meet features Division I divers from the states of Texas, Louisiana, Oklahoma, Arkansas, Kansas, Missouri, Nebraska, Iowa, South Dakota, North Dakota, and Minnesota. The Zone D qualifier is one of five Zone meets across the nation.
Schools represented at the Zone D meet are: Arkansas, Arkansas-Little Rock, Houston, Iowa, Iowa State, Kansas, LSU, Minnesota, Missouri, Nebraska, North Dakota, Northern Iowa, South Dakota State, SMU, Texas A&M, TCU, Texas, Tulane, and Wisconsin.
LAST YEAR
Iowa had three divers advance to the NCAA Championships at last season's zone meet. Joelle Christy qualified in the 1-meter springboard, while Addison Boschult and Calli Head qualified off the platform.
MAKING THE MEET
The top five female and top four male divers from each event at their respective zone diving meet will earn a spot at the NCAA Championships. Additional place finishers in each event at each zone will be eligible based on the number of divers from that zone that finished in the top 16 at the previous year's NCAA Championships.
2016 NUMBER OF ZONE D QUALIFIERS PER EVENT
| | | | |
| --- | --- | --- | --- |
| Zone D | 1m | 3m | Platform |
| Women | 6 | 9 | 9 |
| Men | 7 | 7 | 8 |