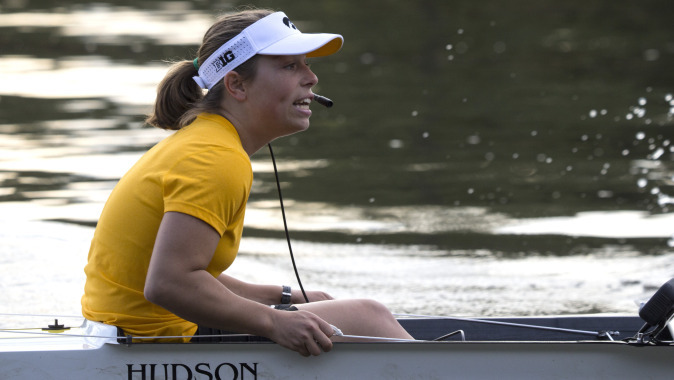 March 6, 2016
Editor's Note: The following first appeared in the University of Iowa's Hawk Talk Daily, an e-newsletter that offers a daily look at the Iowa Hawkeyes, delivered free each morning to thousands of fans of the Hawkeyes worldwide. To receive daily news from the Iowa Hawkeyes, sign up HERE.
By JIL PRICE
IOWA CITY, Iowa — Every crew calls for a coxswain and Katie Brown has spent her collegiate career learning and perfecting that role for the University of Iowa rowing program.
Brown, a high school soccer player who joined the Hawkeyes without rowing experience as a freshman, was brought along by UI novice coach Julie Quoss and former coxswain Sheila Rinozzi. The pair showed her the ropes and she has progressed into the coach in the boat for Iowa's top crew.
"My main goals are to keep the rowers on task and execute what the coaches would want throughout the race because they can't be physically with us," said Brown. "I'm part coach, part cheerleader. I encourage the team and get them to move together so we can be successful."
With graduation on the horizon and coxswain duties up for grabs next year, the senior knows it's time to teach others how to be a coach in the boat.
Freshman coxswain Georgia Sanderson and Faith Wieland have become Brown's understudies. Neither had prior knowledge of rowing, as Sanderson was a gymnast and diver and Wieland was a runner in high school.
Brown took them under her wing during on-water training in Texas Hill Country, which proved to be an invaluable experience for the rookie coxswains.
"It's like submersion," Sanderson said. "They throw you in there and you have to learn everything at once, but it's beneficial. I've learned to stay calm under pressure. You're trying to coach eight women through a race and each one of them wants to know how they're doing and what they should fix to get to where we need to be."
"(Texas Hill Country) was a good environment," Wieland said. "The coaches were there to help us learn and all the rowers had good feedback for us throughout the trip. This was our first experience with the top boats, but they were helpful and knew what to say to us."
When it comes to their growth, both give credit to their mentor.
"Katie is great to work with and helpful," Wieland said. "We came in this fall not knowing the sport, and she has taken us under her wing. She always comes to us and helps us learn what to say on the water." "Katie is very helpful," Sanderson said. "If I'm struggling with anything, I can go to her no matter what. Without her I wouldn't be the coxswain I am today. She has helped me focus and decide what everyone needs to do in the boat. I'm still learning, but I'm getting better."
For Brown, being the leader in the boat has been fun, but it has also steadily prepared her for her desired occupation as a special education coordinator.
"It has taught me how to work with everyone, my coaches, teammates, athletic staff, and academic services, to make every individual grow," Brown said. "I'm going to use the skills I've learned as a coxswain for that in the future."