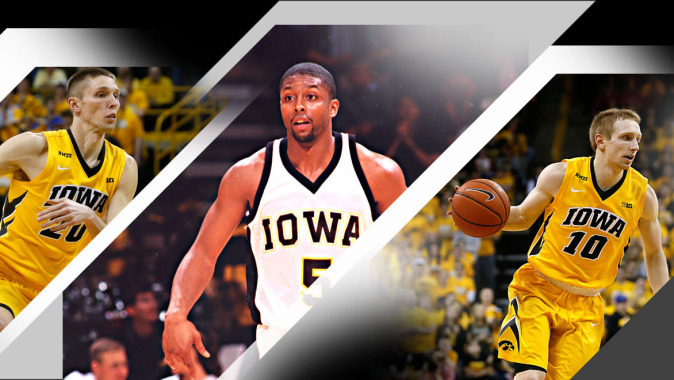 March 9, 2016
Editor's Note: The following first appeared in the University of Iowa's Hawk Talk Daily, an e-newsletter that offers a daily look at the Iowa Hawkeyes, delivered free each morning to thousands of fans of the Hawkeyes worldwide. To receive daily news from the Iowa Hawkeyes, sign up HERE.
By DARREN MILLER
hawkeyesports.com
IOWA CITY, Iowa — Folks are talking about Andre Woolridge again, and that's a good thing.
Woolridge starred for the University of Iowa men's basketball team from 1995-97, scoring 1,525 points and distributing 575 assists. His 193 assists in 1996 is a Hawkeye record…for now.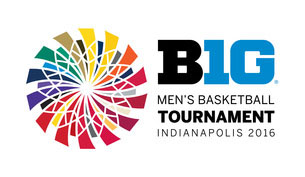 With 186 assists in 30 games (6.2 per game), UI senior point guard Mike Gesell is closing in on Wooldridge's season mark. Gesell said life is easier with teammates like senior Jarrod Uthoff and junior Peter Jok, who have combined to score more than 1,000 points this season.
"(The season assist record) is not something I'm focused on, but it means I'm playing the point guard position the right way and loading my teammates up," Gesell said. "A lot of that has to do with playing with Jarrod and Pete — they are two of the best scorers in the country. When they get going, it is easy to get a lot of assists."
UI head coach Fran McCaffery credits Gesell's vision and the fact he is constantly in attack mode as exceptional components of a good assist man.
"He wants to give the ball up," McCaffery said. "He's a willing passer and he can score, so you've got to play it straight. He just wants to win. (On March 5 during a 71-61 victory at Michigan), he only had six points, but he had 11 assists and one turnover. We're a lot better when he does that."
Gesell has had 12 assists twice this season — Nov. 15 during a 103-68 win over Coppin State and Feb. 14 during a 75-71 win over Minnesota. He handed out double-digit assists on five occasions this season and not surprisingly, Iowa won all five games.
While Gesell is passing, other Hawkeyes are scoring. Uthoff (first team) and Jok (second team) were recognized Monday as All-Big Ten Conference performers.
| | |
| --- | --- |
| | "As a point guard, I take pride in having an All-Big Ten player on my team. I take pride in getting Jarrod and Pete going in games and making sure our offense is flowing efficiently." |
"As a point guard, I take pride in having an All-Big Ten player on my team," said Gesell, who was named honorable mention all-conference. "I take pride in getting Jarrod and Pete going in games and making sure our offense is flowing efficiently."
Gesell has 538 career assists; the school record is 610 by Jeff Horner from 2003-06.
Gesell isn't the only current Hawkeye who has recently had his name mentioned in the same breath as Woolridge. Uthoff was named third-team All-American by USA Today, the highest national honor for a Hawkeye since Woolridge was named first-team All-America by Basketball Times and third-team All-America by The Associated Press in 1997.
"(Jarrod) has been somebody that no matter whether you're watching ESPN or CBS, any of the stations are talking to him about the national Player of the Year race and Big Ten Player of the Year race," McCaffery said. "He's a third-team All-American and it's wonderful. I'm thrilled for him and it's obviously great for the program."
Uthoff isn't hung up on individual honors. He emphasized that again Tuesday during media availability inside Carver-Hawkeye Arena. "Winning an NCAA Tournament," said Uthoff, when asked which award is his favorite.
"Nice accomplishments, but at the end of the day I'm looking for our team to win."
Since Gesell and Uthoff were toddlers when Woolridge was ruling Big Ten courts in the mid-1990s, neither of the current Hawkeyes are familiar with his accomplishments. Like Gesell, Woolridge was a native of Nebraska who knew how to involve teammates in the offense. Like Uthoff, Woolridge could score and turned a lot heads on a national level.
It's a good thing when people are talking about Andre Woolridge again.