Box Score
March 10, 2016
Box Score | USATSI Gallery

| Photo Gallery

By JAMES ALLAN
hawkeyesports.com
INDIANAPOLIS — Illinois' Malcom Hill hit a fade away jumper with 1:16 remaining to break a 66-all tie — a basket that was the eventual game-winner — in the Fighting Illini's 68-66 upset victory over the No. 18/20 University of Iowa men's basketball team Thursday at the Big Ten Tournament at Bankers Life Fieldhouse.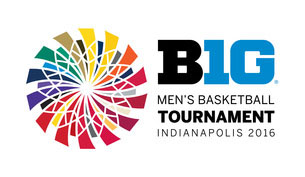 Hill's field goal came after the Hawkeyes rallied from a 66-55 deficit with 3 1/2 minutes to play to tie the game at 66 with 1:40 left. Senior Jarrod Uthoff started the rally by completing a three-point play to make the score 66-58 before Iowa's pressure gave the Illini fits.
Redshirt freshman Nicholas Baer's poked the ball away from behind before getting rewarded with a fast-break dunk to cut the lead to six with 3:09 left. After Illinois guard Kendrick Nunn's 3-pointer on the ensuing possession rattled halfway down, Iowa capitalized, using a Dom Uhl 3-pointer to cut the lead to 66-63.

| | | | |
| --- | --- | --- | --- |
| | 1st | 2nd | Final |
| Illinois (15-18) | 37 | 31 | 68 |
| #18/20 Iowa (21-10) | 35 | 31 | 66 |
| | | |
| --- | --- | --- |
| Stats at a Glance | IOWA | MICH |
| FG Percentage | 44.8 | 40.3 |
| 3-Point FG Percentage | 43.5 | 40.0 |
| FT Percentage | 100.0 | 80.0 |
| Total Rebounds | 30 | 40 |
| Points in the Paint | 24 | 20 |
| Points off Turnovers | 19 | 16 |
Uthoff swatted Jaylon Tate on the next possession before Baer cleaned up an Anthony Clemmons miss with an and-one to tie the game at 66.
With the shot clock winding down, Hill drove to his right and connected on a jumper from the free throw stripe to give Illinois the lead. Iowa's Mike Gesell left a pull-up jumper short on the ensuing possession, and the Illini secured the rebound and milked the clock.
After getting a defensive stop, Iowa had the ball with 15.2 remaining, but the Hawkeyes couldn't get off a shot off. Hill picked Gesell's pocket to force a tie up and the possession arrow was in Iowa's favor, but with just 2.6 seconds to play. With no timeouts, Iowa threw a contested pass to Uhl, but the ball ricocheted off his hand, giving Illinois the ball and win.
Junior Peter Jok led all scorers with 29 points, tying a career-high. He made 10-of-16 field goals, including four 3-pointers, but he fouled out with four minutes to play on a double technical. Uthoff was the only other Hawkeye in double figures, netting 21 points on 9-of-16 shooting.
Senior Adam Woodbury grabbed a game-high 10 rebounds, and Gesell had eight assists, giving him 194 this season to break Iowa's single-season assists record.
Illinois had a higher field goal percentage (44.8 to 40.3), 3-point percentage (43.5 to 40.0), and made all six of its free throws. Iowa won the rebounding battle, 40-30, but committed 18 turnovers — 7.8 above its season average (10.2).
The Illini stormed out of the gates to the tune of an 11-4 lead early and the score was 22-11 at the 9:33 mark. Uthoff was Iowa's offense at the start of the game, scoring 11 of the team's first 13 points.
Jok got going with his first field goal at the 7:10 mark and Gesell followed with a 3-pointer to cut the deficit to 24-18. Jok then went berserk, scoring 15 straight Iowa points to give the Hawkeyes a 33-30 lead. Illinois led 37-35 at the break after shooting 51.9 percent in the opening half. Jok and Uthoff scored 30 of Iowa's 35 first-half points.
Iowa tied the game on the first possession of the second half before the Illini regained the lead on a Maverick Morgan jumper 29 seconds later. Illinois pushed its lead to six on a Michael Finke 3-pointer at the 17:08 mark and back-to-back layups from Jalen Coleman-Lands and Kendrick Nunn pushed the lead to 55-47 with 14:31 left.
The Hawkeyes trailed 63-52 with 7:34 left before both teams endured a 3 1/2 minute scoreless stretch. Baer connected on a jumper at the 4:02 mark — the first field goal of the half by a player not named Jok or Uthoff.
Coleman-Lands led Illinois with 17 points — on five 3-pointers — while Nunn and Morgan had 16 points and 14 points, respectively.
Iowa (21-10) will learn its postseason destination Sunday when the brackets for the 2016 NCAA Tournament are revealed live on CBS.