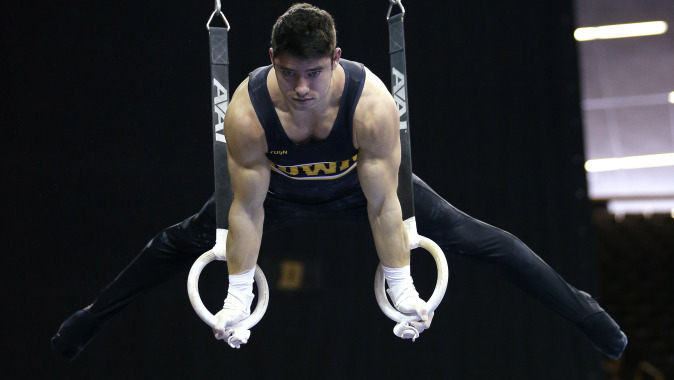 March 10, 2016
Notes – Minnesota

THIS WEEK:
No. 8 University of Iowa men's gymnastics team hosts its final home meet of the season against Nebraska this Saturday in Carver-Hawkeye Arena. The meet will serve as Senior Night for Matt Loochtan, Jack Boyle, Del Vecchio Orozco, Emmanuel Monroy, Doug Sullivan, and Cyrus Dobre-Mofid. The meet begins at 5 p.m. (CT).
TEAM WILLS:
The men's gymnastics team will be honoring Calder Wills before Saturday's meet. Wills, a level 5 gymnast, was recently diagnosed with Stage 4 lymphoma. The gymnasts will be wearing T-shirts before the competition in support of Wills. More information about how to donate will be available at the meet.
PROMOTIONS:
Kids Zone will be available for young Hawkeye fans prior to the meet.
Fans can pick up free men's gymnastics posters.
Seniors and alumni will be honored following the meet.
Following the meet, men's gymnastics student-athletes will sign autographs for fans.
FOLLOW ALONG:
Fans can follow this weekend's meet via live stats at livestats.hawkeyesports.com. A live stream can be found on the Periscope app and linked to the team's Twitter account (@mensgymiowa).
LAST TIME OUT:
Iowa traveled to Columbus, Ohio, to compete in the annual Arnold Challenge with Nebraska and host Ohio State. The Hawkeyes faltered, finishing in third place with a score of 426.400. Ohio State (447.400) and Nebraska (437.600) both set school records for team scores. Senior Matt Loochtan placed third overall on rings, posting a 15.100. Senior Jack Boyle finished in third place on high bar with a score of 14.900 and set a career-high on parallel bars, recording a 15.000.
SCOUTING THE COMPETITION:
The Hawkeyes host No. 4 Minnesota in Carver-Hawkeye Arena on Saturday.
? Iowa will face Minnesota for the second time in 2016. Minnesota defeated Iowa on Feb. 13 in Minneapolis, (419.700 – 432.650).
? Zach Liebler is ranked first nationally on floor exercise with a three-score average of 15.867.
? Yaroslav Pochinka (15.383) leads the nation on vault followed by Liebler (15.333).
BOYLE NAMED FINALIST FOR NISSEN-EMERY
Senior Jack Boyle was named a finalist for the Nissen-Emery Award. This prestigious honor is given to the country's most outstanding senior gymnast both in the gym and in the classroom. The last Hawkeye to be named a finalist for the award was Jonathan Buese in 2010.
Boyle, a Naperville, Illinois, native is a mechanical engineering major and two-time Academic All-Big Ten honoree. He is tied for first in the country on high bar with a three-score average of 15.233 and is 14th nationally in the all-around (85.667). Boyle leads the team on high bar and rings with high scores of 15.300 and 15.250, respectively. He has won four event titles and an all-around title so far this season.
LOOCHTAN NAMED BIG TEN GYMNAST OF THE WEEK:
Senior Matt Loochtan was named Big Ten Gymnast of the Week on Feb. 27 after helping Iowa defeat No. 6 Nebraska and No. 8 Penn State. Loochtan earned five event titles on floor (15.350), rings (15.150), vault (14.450), parallel bars (14.850), and high bar (14.450) to help the Hawkeyes finish atop the leaderboard. His all-around score of 86.400 marked a career-high.
It is Iowa's first Gymnast of the Week award since Jan. 26, 2015, when senior Jack Boyle won the honor and Loochtan's second weekly honor of his career. He won Big Ten Freshman of the Week on April 1, 2013.
BIG TEN SHOWS POWER:
The Big Ten Conference has been dominant so far this season. Of the top 10 teams listed on roadtonationals.com, six are from the Big Ten, including No. 3 Ohio State, No. 4 Minnesota, No. 5 Illinois, No. 6 Nebraska, No. 7 Penn State, and No. 8 Iowa.
BOYLE ON HIGH BAR:
Senior Jack Boyle is tied for second nationally on high bar this season with Stanford's Akash Modi. Boyle owns a three-score average of 15.233 through eight meets on high bar. The Naperville, Illinois, native posted his career-high of 15.300 against Illinois on Jan. 23. As a team, the Hawkeyes rank fifth nationally on high bar with a three-score average of 72.117.
HIGH SCORING HAWKS:
Iowa made history in back-to-back meets on Jan. 23-24. The Hawkeyes have never scored above a 430.000 team score in January in the program's history, but in 2016, the team did it twice with a 430.850 coming against Illinois and a 431.150 the next day at UIC.
FRESHMEN CONTRIBUTORS:
Three freshmen have found their way into the Iowa lineup this season.
? Jake Brodarzon has competed in every meet for the Hawkeyes this season, making the lineup on floor and parallel bars.He posted season-high scores on floor (14.550) and parallel bars (14.150) on Feb. 27.
? Todd Beyer II has competed for the Hawkeyes four times this season on vault. His best score came at UIC on Jan. 24, where he placed third overall with a 14.900.
? Rogelio Vazquez has competed on three events this season including, rings, parallel bars and high bar. His high score on rings came against Illinois on Jan. 23, where he posted a 14.550. The next day, Vazquez notched a season-high on parallel bars (13.800), and on March 5 he recorded a season-high on high bar (14.100).
Cory Paterson COMPETES IN CANADA:
During the Hawkeyes' off-day on Feb. 6, junior Cory Paterson traveled to Halifax, Nova Scotia, with assistant coach Ben Ketelsen for the 2016 Elite Canada Artistic Gymnastics Championships. Paterson placed seventh in the all-around competition with a 79.100 and third on high bar with a 13.600 effort.
HAWKEYES SIGN 3 FOR 2016-17:
The Iowa men's gymnastics team signed three standout gymnasts for the 2016-17 season. Andrew Herrador (Sunnyvale, California), Nicholas Merryman (Brookline, New Hampshire) and Mitch Mandozzi (Harvard, Massachusetts) signed National Letters of Intent to continue their gymnastics career at Iowa. The recruiting class has combined for nine state championships and five national championships.
HEAD COACH JD Reive:
JD Reive, the seventh head coach at Iowa, is entering his sixth year at the helm of the program. Reive is looking for continued success following a sixth place finish at the NCAA Championships last year. Reive has led an all-american in each of the past three seasons and has one of the highest team GPA's at Iowa with eight gymnasts named to the 2015 Big Ten Winter Academic All-Conference team.
In 2015, Iowa sent five gymnasts to compete in the event finals of the Big Ten Championship. Doug Sullivan was named all-conference on pommel horse following a score of 14.800. As a team, Iowa placed sixth with a team score of 427.600. At the NCAA event finals, Jack Boyle was named an all-american on high bar with a sixth place finish and a score of 14.850.
Reive graduated from Nebraska in 2000 with a bachelor of journalism degree and was an assistant at Stanford from 2003-10 where he helped the team grab four top three finishes. Reive was also named Collegiate Gymnastics Association Assistant Coach of the Year three times (2006, 2009 and 2010) and was also the National Assistant Coach of the Year in 2009.