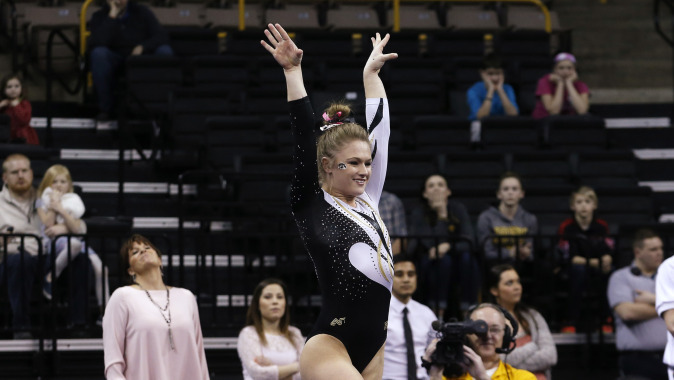 March 12, 2016
Big 5 Meet Results

By MEGAN ROWLEY
UNIVERSITY PARK, Pa. — The No. 18 University of Iowa women's gymnastics team posted a 196.650 for the second time this season to finish fourth place at the second annual Big Five Meet Saturday afternoon. The GymHawks, who just missed qualifying for the night session at the Big Ten Championships, faced No. 19 Minnesota (197.425), Penn State (197.125), No. 6 Michigan (196.875), and Rutgers (194.550) inside Rec Hall.
"I could not be more proud," said UI head coach Larissa Libby. "The Big Ten is a hard conference. Everyone is good. While we had a great night, it wasn't perfect; and there were teams that were perfect. We gave away some things that we can go back and work on. I feel like we are in a good place because we haven't peaked. There is still a lot of season left."
Five GymHawks tallied eight top five finishes on the afternoon. Junior Angel Metcalf led the charge with fifth place results on beam (9.900 — season-high), vault (9.875), and on bars (9.850). In addition to the top five finishes, the team posted team-high scores on vault (49.275) and in the all-around (196.650).
Iowa started the day on beam, posting a 49.125. Metcalf paced the GymHawks with a 9.900 score in the rotation. Host Penn State began on bars (49.325), Michigan opened on vault (49.275), Minnesota started on floor (49.325), and Rutgers was on beam after Iowa (48.875).
On floor, senior Alie Glover paced the GymHawks with a career-best 9.925 effort to finish at the top of the podium. Junior Ashleigh Edlin earned a season-best score of 9.800. Iowa tallied a 49.100, adding to its running total of 98.225. Penn State, Michigan, Minnesota, and Rutgers stood at 98.700, 98.550, 98.525, 98.550, and 98.050, respectively, at the conclusion of the second rotation.
The Hawkeyes then moved to vault, where sophomore Nikki You posted a 9.900 to earn a second place finish. Freshman Maria Ortiz and Metcalf both posted 9.875, tying for fifth place overall. Junior Mollie Drenth rounded out vault scores with a 9.825, adding to the team score of 49.275. Penn State (147.925) led the field heading into the final rotation, followed by Minnesota (147.750), Iowa (147.500), Michigan (147.450), and Rutgers (145.675).
Iowa concluded the afternoon on bars, tallying a 49.150 team score. Drenth, Metcalf, and junior Lexi Mura posted scores of 9.875, 9.850, 9.825 to finish third, fifth, and 15th, respectively.
Drenth and Metcalf both competed for the all-around title, totaling scores of 39.425 and 39.325, respectively. Drenth paced Iowa with a third place finish in the all-around.
"We need to go back and work on those details that we gave away tonight," said Libby. "This is tough competition. We have some work to do and the girls know it, but I am not disappointed. I am walking away from this meet very proud of this team. We believe we can win the Big Ten Championship from the morning session.
"I am very proud of what they did today. We will go back home and we will get better."
The GymHawks will travel to Lincoln, Nebraska, to compete at the Big Ten Championships on March 19 at the Devaney Center. Iowa will compete in the morning session, beginning at 11 a.m. (CT). The Big Ten Network will provide live coverage of session one (11 a.m.) and session two (4 p.m.).