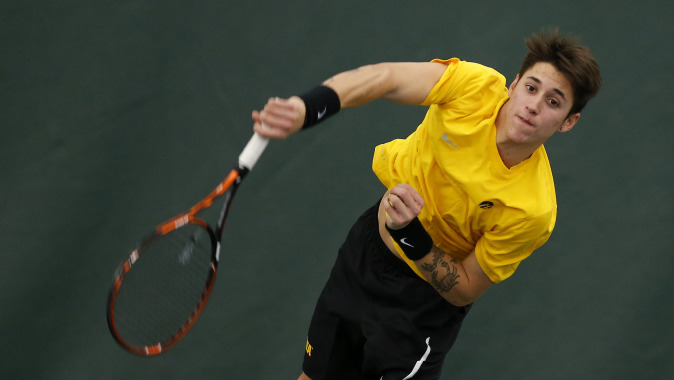 March 16, 2016
WHAT YOU NEED TO KNOW
Iowa is traveling to Cal Poly on Saturday
Saturday will be the first meeting between the Hawkeyes and Mustangs in program history
The Hawkeyes are ranked No. 52 in the latest Oracle/ITA rankings
Sophomore Lefteris Theodorou has defeated two ranked opponents this season
Theodorou and classmate Jake Jacoby are ranked No. 78 in doubles
Cal Poly's No. 1 doubles team of Ben Donovan and Corey Pang is ranked No. 68 in the country
THIS WEEK:
The 52nd-ranked University of Iowa men's tennis team hits the road for Spring Break, heading to the West Coast to face No. 73 Cal Poly on Saturday at noon at Mustang Courts in San Luis Obispo, California.
HEFTY LEFTY:
Sophomore Lefteris Theodorou has played a majority of the season at No. 2 singles, accumulating an 8-2 record, but the Greece native moved to the No. 1 position last week in duals against No. 50 Oklahoma State and Lamar. It was Theodorou's second time playing at the one line this season.
Theodorou tallied his second win against a ranked opponent against Oklahoma State when he defeated 49th-ranked Julian Cash in straight sets, 6-3, 6-2. He also downed No. 121 Miroslav Herzan of Wichita State in February.
With eight wins at No. 2, Theodorou is halfway to the top spot in the record books. Thomas Adler currently holds the record with a 16-8 mark in 1991. Eight more wins would also put the Hawkeye on Iowa's top 10 single-season wins list.
HISTORY IN THE MAKING:
Saturday's match will be the first meeting between Iowa and Cal Poly.
The Mustangs haven't faced a Big Ten opponent since hosting Nebraska in 2012. Cal Poly defeated the Cornhuskers, 5-1.
SCOUTING THE COMPETITION:
Cal Poly is currently on a four-match winning streak after defeating San Francisco on March 4 to move its record to 7-6. In February, the Mustangs defeated then No. 70 Fresno State, 4-3. It is the team's only win against a ranked opponent this season.
The Mustangs are 5-1 on their home courts heading into Saturday's dual.
The Cal Poly duo of Ben Donovan and Corey Pang are ranked 68th in the nation with a 7-3 record with one win coming against a ranked opponent.
HEAD COACH Ross Wilson ON CLOSE MATCHES:
"We've played a lot of tough teams this year and as a coaches we've expected us to go through some tough weeks. I am confident our guys are battle tested and willing to do what it takes mentally and physically to win these close matches."
FOLLOW THE HAWKEYES
Fans can follow the Hawkeyes all season long and receive live match updates on Facebook (facebook.com/IowaMensTennis) or on Twitter (@IowaMensTennis). Fans can also get a behind the scene look on Snapchat (uiowamenstennis).