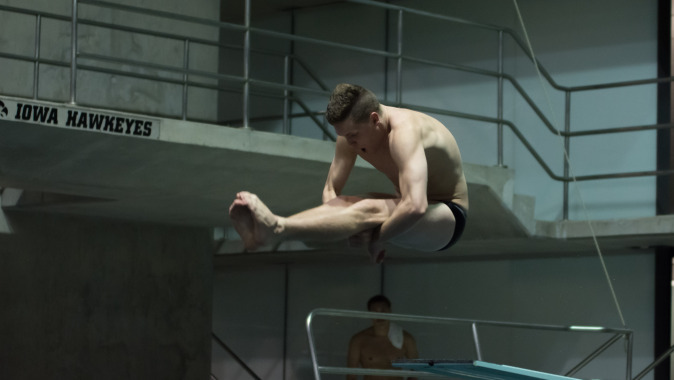 March 22, 2016
IOWA CITY, Iowa — Five members of the University of Iowa men's swimming and diving team will travel to Atlanta to compete in the 2016 NCAA Swimming and Diving Championships. The event will be held at the McAuley Aquatic Center from Wednesday through Saturday.
This is the second NCAA Championships for senior Roman Trussov, sophomore Jerzy Twarowski, and senior Addison Boschult and marks the first year for freshmen Kenneth Mende and Jack Smith.
Trussov will be competing in four events — individually in the 100 and 200 breast and as part of the 200 and 400-medley relays. He enters the championship with the ninth-fastest time in the 100-breast after swimming a time of 52.12 to earn the silver medal at the Big Ten Championships.
The Ust-Kamenogorsk, Kazakhstan native swam the same at last year's NCAA Championships, finishing 24th in the 100-breast (53.17) and 28th in the 200-breast (1:55.04).
The quartet of freshman Kenneth Mende, Trussov, sophomore Jerzy Twarowski, and freshman Jack Smith will swim in both medley relays. In the 400, the group claimed bronze and swam to a school record of 3:07.83 at the Big Ten Championships. It is the 14th-fastest time nationally.
In the 200, they have the 21st-fastest time at 1:25.67.
Boschult will be competing off of the platform for the second year in a row. He claimed this spot after finishing fifth at the NCAA Zone D Diving Championships on March 9 in College Station, Texas.
The Omaha, Nebraska, native earned honorable mention All-America honors at the 2015 NCAA Championships, finishing 10th with a score of 386.50.
Fans can watch the NCAA Championships live via a live stream at: http://atlantaswimming.com/Webcast. Watch ESPN will air the finals Friday and Saturday.
Real time results can be accessed at: http://www.swmeets.com/Realtime/NCAA/2016/, and fans can follow the Hawkeyes on Twitter: @iowaswimdive.
Iowa's schedule of events for the NCAA Championships is as follows:
Thursday, March 24
Mende, Trussov, Twarowski, and Smith – 400-medley relay – 5 p.m. (consolation finals/finals)
Friday, March 25
Trussov – 100 Breast – 9 a.m. (prelims)/5 p.m. (finals) Mende, Trussov, Twarowski, and Smith – 200-medley relay – 5 p.m. (consolation finals/finals)
Saturday, March 26
Trussov – 200 Breast – 9 a.m. (prelims)/5 p.m. (finals)
Boschult – Platform – 11:15 a.m. (trials)/5 p.m. (finals)
(All times Central)