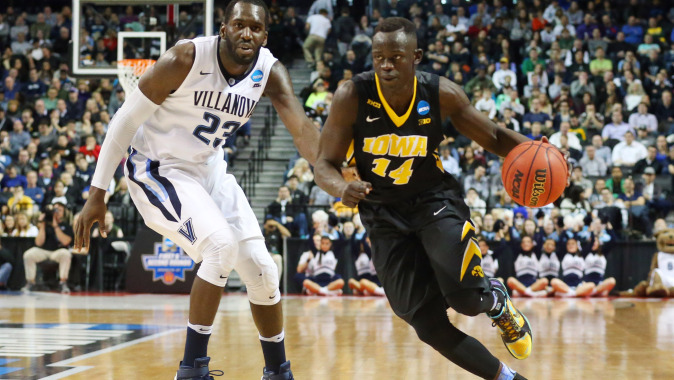 March 25, 2016
IOWA CITY, Iowa — University of Iowa senior Jarrod Uthoff and junior Peter Jok were named Friday to the first and second National Association of Basketball Coaches All-District 7 team, respectively. Selected and voted on by member coaches of the NABC, these student-athletes represent the finest basketball players across the country.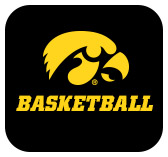 Uthoff, a native of Cedar Rapids, Iowa, ranked second in the Big Ten in scoring (18.9), first in blocked shots (2.6), and tied for 13th in rebounding (6.3). The forward ranks 19th in Iowa career scoring (1,298) and fourth in blocked shots (177). Uthoff (6-foot-9, 221 pounds) scored in double figures in all but one game this season, including netting 20 points or more a team-best 16 times. Uthoff's 624 points scored this season ranks eighth most in Iowa single-season annals. The team co-captain is one of only three Hawkeyes in program history to amass 1,000 points and 150 blocks in a career (Acie Earl and Greg Stokes). He was one of only two players nationally to total more than 600 points, 200 rebounds, and 85 blocked shots (Stony Brook's Jameel Warney). Additionally, Uthoff is only the second player nationally the last 20 years to average two blocks and two 3-pointers per game (Duke's Shane Battier in 1999-00 and 2000-01).
After averaging seven points per game a season ago, Jok (6-foot-6, 205 pounds) surged 9.1 points this year, averaging 16.1 points contest. The 9.1 improvement was tops among Big Ten players. The Hawkeye guard ranked second on the team and eighth in the league in scoring (16.1). His 80 triples were first on the team and ranked sixth in Iowa single-season history. He also was second on the team this season in steals, averaging 1.25 per contest. Jok scored in double figures 26 times as a junior, including tallying 20 points or more 11 times. His 29-point outburst at Rutgers (Jan. 21) and vs. Illinois (March 10) ties for the seventh most by a Hawkeye during the Fran McCaffery era.
The Hawkeyes won 22 games, tied for third place in the Big Ten, and advanced to the second round of the NCAA Tournament in 2016.
District 7
First Team
Jarrod Uthoff, Iowa
Denzel Valentine, Michigan State
Yogi Ferrell, Indiana
A.J. Hammons, Purdue
Melo Trimble, Maryland
Second Team
Nigel Hayes, Wisconsin
Peter Jok, Iowa
Malcolm Hill, Illinois
Matt Costello, Michigan State
Robert Carter, Maryland