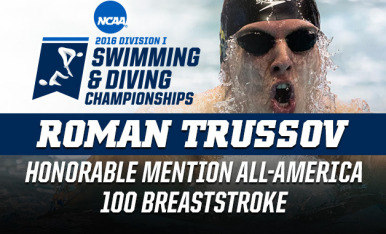 March 25, 2016
ATLANTA — University of Iowa senior Roman Trussov garnered honorable mention All-America honors in the 100-yard breast stroke Friday at the 2016 NCAA Men's Swimming and Diving Championships. It is the first All-America distinction of his career.
The Kazakhstan native finished 15th in Friday night's "B" final with a time of 53.17 seconds. Trussov earned a second swim during the morning prelims, touching out in 52.62 seconds for the 14th-fastest time in the 49-swimmer field.
It is the fourth time in five years the Hawkeyes have had at least one student-athlete garner All-America honors. Platform diver Addison Boschult was an honorable mention All-American in 2015.
The Hawkeyes also placed 20th in the 200-medley relay with the quartet of redshirt freshman Kenneth Mende, Trussov, sophomore Jerzy Twarowski, and freshman Jack Smith finishing with a time of 1:26.50.
Iowa wraps up the 2016 NCAA Championships on Saturday. Trussov will compete in the 200 breaststroke, while Boschult will dive off the platform. Prelims begin at 9 a.m. (CT).