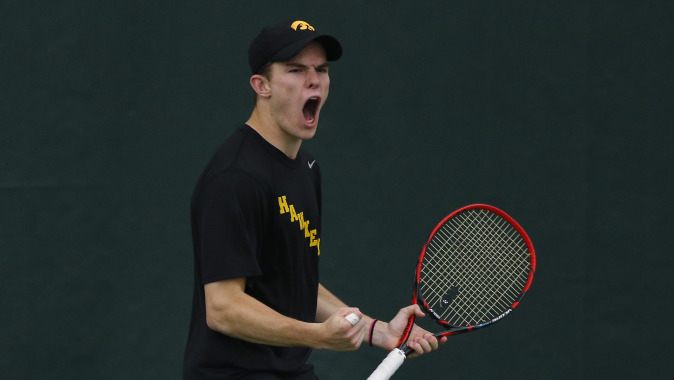 March 30, 2016
WHAT YOU NEED TO KNOW
No. 60 Iowa is traveling to Ohio for match ups against Dayton and No. 4 Ohio State on Friday.
Friday will be the first meeting between the Hawkeyes and Flyers in program history
The Hawkeyes will make their way to State College, Pennsylvania for a match up against the No, 33 Nittany Lions at noon on Sunday.
THIS WEEK:
The 60th-ranked University of Iowa men's tennis team will leave the Hawkeye state this weekend for a three match road trip to Ohio and Pennsylvania. Iowa will take the courts in Dayton, Ohio at 11 a.m. Friday, then head to Columbus where they'll face No. 4 Ohio State. On Sunday, the Hawkeyes will make their way to State College, Pennsylvania for a match up against No. 33 Penn State.
SCOUTING THE COMPETITION:
Friday's matchup against Dayton will be the first time the programs have met on the courts.
The Flyers have accumulated a 12-5 record and are 6-1 on their home courts this seaso. They've lost to all three ranked opponents they've faced this season.
The Buckeyes have dominated on their home courts this season, gathering 12 wins with no losses.
No. 4 Ohio State sits atop the Big Ten leader board with three wins in conference play. They're tied for the first place spot with Wisconsin and Northwestern.
Last season, The Hawkeyes picked up the doubles point against then No. 11 Ohio State but ultimately fell, 4-1, in Iowa City.
"The guys bare excited to play a team like Ohio State and I think we're going to go in there and play with good energy," said UI head coach, Ross Wilson.
"They have a lot of great players and they are a storied program but at the same time we want to go in and give it our best shot."
The Iowa men's tennis program has 12 wins all time against the 33rd-ranked Nittany Lions.
Penn State is also undefeated at home with nine wins.
Iowa and Penn State share the same, 1-2, record in conference play. The Nittany Lions dropped to Ohio State and Michigan.
Last season, Penn State clinched the match over Iowa, 4-2, at the Hawkeye Tennis and Recreation Complex. Sophomore Lefteris Theodorou picked up an individual win at No. 2, 6-1, 5-7, 6-3.
HEADING HOME:
Iowa head coach, Ross Wilson, is not a stranger to the Varsity Tennis Center in Columbus, Ohio.
The Toledo native was a standout on the tennis courts for the Buckeyes. While at Ohio State, Wilson was named a two-time NCAA All-American and baled his way to three Intercollegiate Tennis Association (ITA) doubles championships.
He was part of the only doubles team in college tennis history to win ITA National Indoor titles in back-to-back years.
"It's exciting to go back to Ohio State," Wilson said.
"I think having the success that we were able to have there and being part of that program set me up to be successful as a coach in the Big Ten. That being said, I'm at the University of Iowa and this is what's important to me. I want to make sure that we have the best program possible."
FOLLOW THE HAWKEYES
Fans can follow the Hawkeyes all season long and receive live match updates on Facebook (facebook.com/IowaMensTennis) or on Twitter (@IowaMensTennis). Fans can also get a behind the scene look on Snapchat (uiowamenstennis).
LIVE STATS
Live stats will be available for Friday's match against No. 4 Ohio State and Sunday's match agsint No. 33 Penn State on the Iowa men's tennis schedule page at hawkeyesports.com. Check out our Twitter and Facebook the day of the match for a direct link.