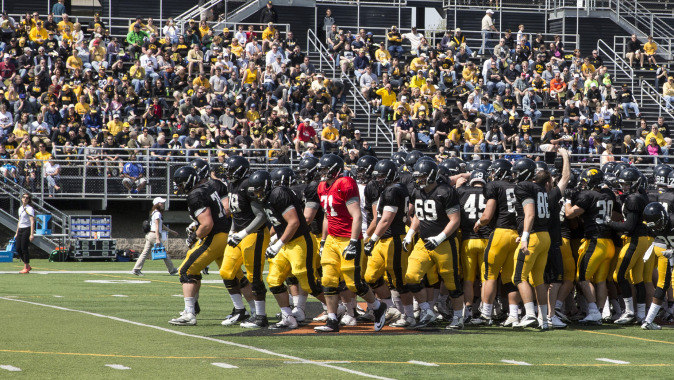 March 30, 2016
IOWA CITY, Iowa – – The University of Iowa football team will hold an open practice at Valley Stadium, West Des Moines, on Friday, April 8, with a youth clinic scheduled to follow the practice session. The Hawkeyes are staging the event at Valley Stadium for the fourth straight spring.
The open practice in West Des Moines will begin at 6 p.m. at Valley Stadium, and will be preceded by an autograph session on the field at 5:30 p.m. West and Southeast gates will open at 4:30 p.m. No tickets are required for the event, which is free to the public. Roster cards, posters, schedule cards, and 2016 ticket information will be available at all open gates.
A 45-minute youth clinic will take place following the practice (approximately 7:45 p.m.). The clinic is open for the first 275 children (ages 7-12), with all participants receiving a free t-shirt. Release of Liability forms will be distributed at the entrance gates. Forms must be completed and signed by the youth's parent/guardian and presented to UI staff at the NW Field Gate at 7:15 p.m. Parents/guardians will not be permitted on the field during the youth clinic.
"We are pleased to be returning to West Des Moines and central Iowa for a spring practice," said head coach Kirk Ferentz. "This annual event has been a popular event in the past and well received by our players, coaches, and our fans in central and western Iowa. We look forward to hosting a Friday evening event, while hosting both an autograph session with our players, and a clinic with our coaches following practice.
"The assistance and cooperation we receive from everyone involved from the West Des Moines Community School District and Valley High School plays a major role in the success of the event," said Ferentz. "We appreciate their willingness to work with our program again in the planning, organization and hosting of this event."
Concession stands within the stadium will be open and Herky's Locker Room will be open outside the west entrance. No outside food or drink will be allowed in Valley Stadium. Other prohibited items include strollers and umbrellas. Bags may also be subject to search upon entry to Valley Stadium.
No tailgating, including open flame grills, is allowed on West Des Moines Community School District, city of West Des Moines, or Valley Church property; including before and after the practice. Alcohol is not ever allowed on the city of West Des Moines or West Des Moines Community Schools property. All WDMCS property, including Valley Stadium, is tobacco-free.
Iowa began spring drills on Wednesday, March 23. The Hawkeyes will host their final spring practice in Kinnick Stadium on Saturday, April 23 (1 p.m.) to conclude spring practice.
Iowa opens the 2016 football season Sept. 3, hosting Miami, Ohio. The Hawkeyes will also host non-conference opponents Iowa State (Sept. 10) and North Dakota State (Sept. 17). Big Ten home opponents include Northwestern (Oct. 1, Homecoming), Wisconsin (Oct. 22), Michigan (Nov. 12) and Nebraska (Nov. 25).
Questions concerning the purchase of 2016 football tickets, including general public, UI faculty/staff and UI student seasons tickets by current UI students, should be directed to the UI Athletics Ticket Office. The office is open weekdays from 9 a.m. to 4 p.m. The office telephone number is 1-800-IA-HAWKS. Information is also available at hawkeyesports.com/tickets.